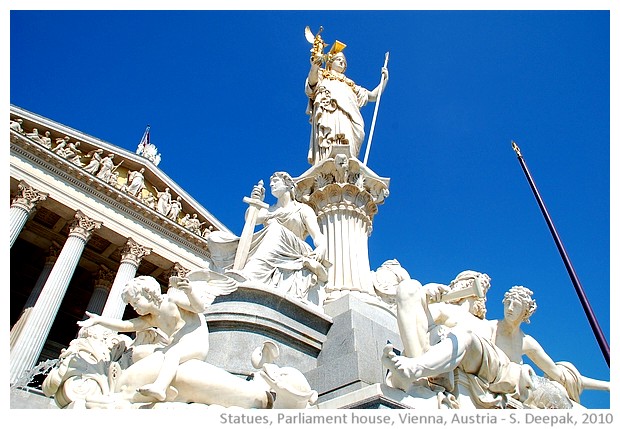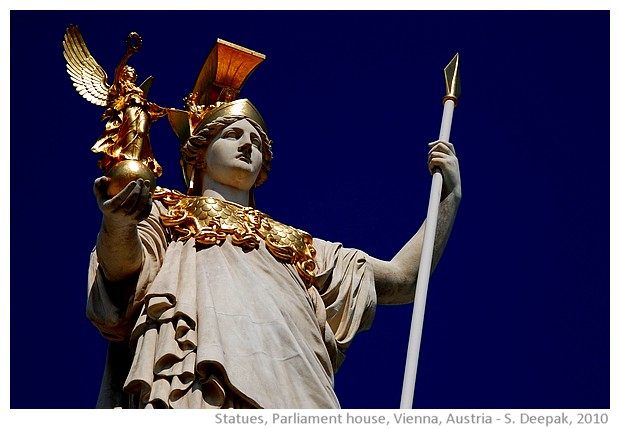 Vienna, Austria: Today early morning, when I reached Vienna, I found rain and cold. Over the next three days, I need to work but in the evenings, I am planning to go out to visit the city. Today's images are from my last visit to Vienna - a group of statues outside the parliament.
वियेना, ओस्ट्रियाः आज सुबह सुबह जब वियेना पहुँचा बारिश और सर्दी मिले. अगले तीन दिनों में दिन भर तो काम की व्यस्ता होगी, लेकिन शाम को घूमने का पूरा कार्यक्रम बना हुआ है. आज की तस्वीरें पिछली वियेना यात्रा से - संसद भवन के बाहर की कुछ मूर्तियाँ.
Vienna, Austria: Oggi alla mattina quando sono arrivato a Vienna, ho trovato pioggia e freddo. Nei prossimi tre giorni devo lavorare ma ho il programma di uscire alla sera per visitare la città. Le immagini di oggi sono dalla mia ultima visita in questa città - un gruppo di statue vicino il parlamento.
***