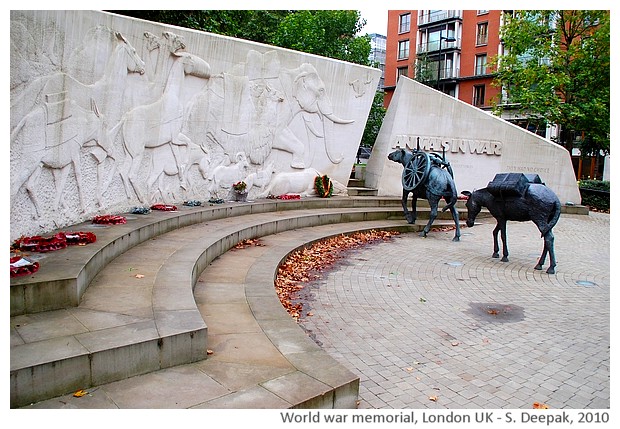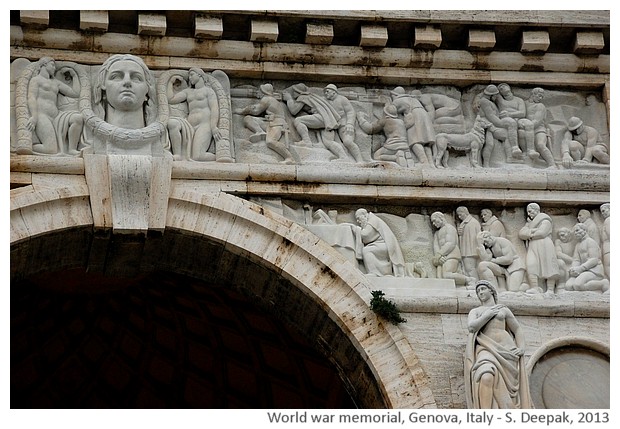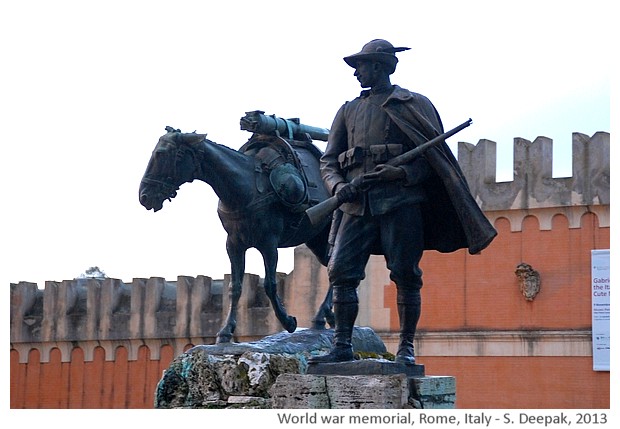 Till the early parts of last century, when there were no jeeps and trucks, animals played an important role in wars. Horses had played a decisive role in victory of European empires over the anicent cultures of central and south America. Today's images have animals from three world war memorials in - London/UK, Genoa/Italy and Rome/Italy.
पिछली सदी के प्रारम्भ तक, जब जीप और ट्रक नहीं होते थे, युद्धों में पशुओं का बहुत महत्व था. मध्य तथा दक्षिण अमरीका की प्राचीन सभ्यताओं पर यूरोपीय साम्राज्यों की जीत में घोड़ों ने महत्वपूर्ण भूमिका निभायी थी. आज की तस्वीरों में युद्ध में मरने वाले सिपाहियों की याद में बनाये गये तीन सैनिक स्मारकों में पशु - लंडन/ब्रिटेन, जेनोवा/इटली और रोम/इटली से.
Fino agli inizi dello scorso secolo, quando non vi erano le macchine fuori-strada e i camion, gli animali giocavano un ruolo importante nelle guerre. I cavalli erano stati decisivi nella vittoria degli imperi europei contro le antiche culture del centro e del sud America. Le immagini di oggi hanno gli animali da tre memoriali costruiti per ricordare i soldati morti nelle guerre, sono da - Londra/Inghilterra, Genova/Italia e Roma/Italia.
***