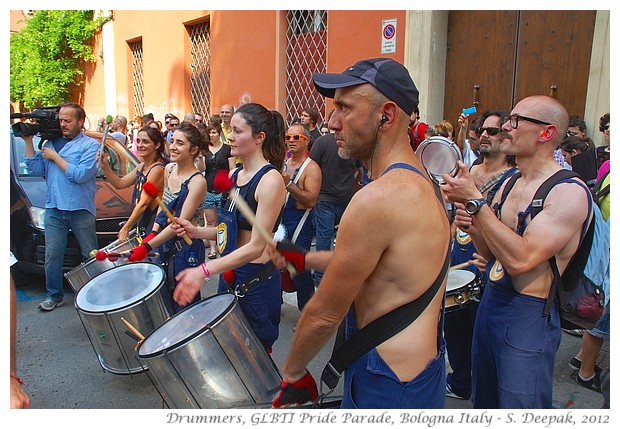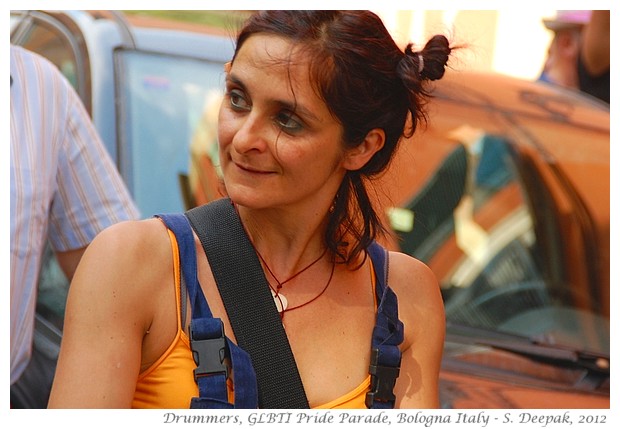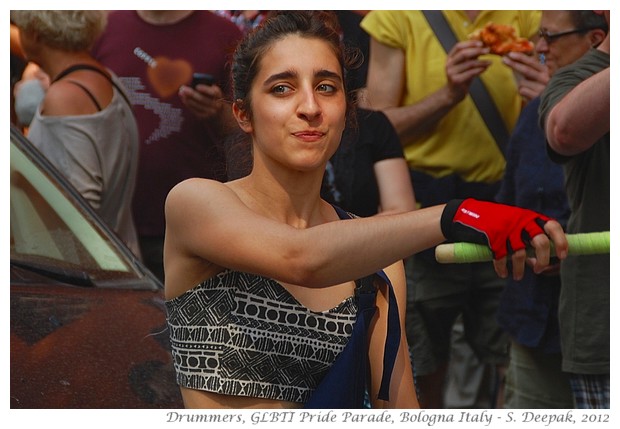 Bologna, Italy: For unihibited dancing, there is nothing better than the sound of drums. When a group of drummers get together, their beats enter your blood like a drug and make you move your feet automatically. Today's images have some young women from the Bologna drummers group. Their skills in playing the drums give me joy and at the same time, surprize me that in spite of such slim bodies they can carry such big and heavy drums so effortlessly.
बोलोनिया, इटलीः मस्ती और निसंकोच नाच के लिए ढोल से बढ़ कर कोई वाद्य नहीं. जब कुछ लोग मिल कर एक साथ ढोल बजाते हैं तो उसकी गूँजती हुई ध्वनि नशे की तरह रक्त में घुस कर अपने आप ही पैरों को थिरकाने लगती है. आज की तस्वीरों में बोलोनिया के ढोल ग्रुप से कुछ युवतियाँ जिनके मस्त ढोल बजाने से आनन्द तो मिलता ही है, कुछ आश्चर्य भी होता है कि दुबली पतली हो कर भी अपने कन्धों पर इतने भारी ढोल इतनी आसानी से उठा लेती हैं.
Bologna, Italia: Per danzare senza inibizioni, non c'è niente di meglio dello suono dei tamburi. Quando un gruppo insieme suona i tamburi, il loro ritmo entra nel sangue come una droga e ti fa muovere i piedi automaticamente. Le immagini di oggi hanno alcune ragazze del gruppo tamburi di Bologna. Mentre godevo della loro capacità di suonare i tamburi, ero anche un po' sorpreso che con i loro corpi così esili portavano sulle spalle i grandi e pesanti tamburi con apparente leggerezza.
***