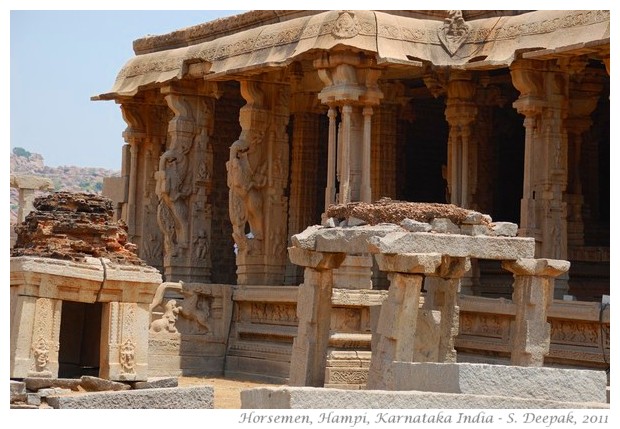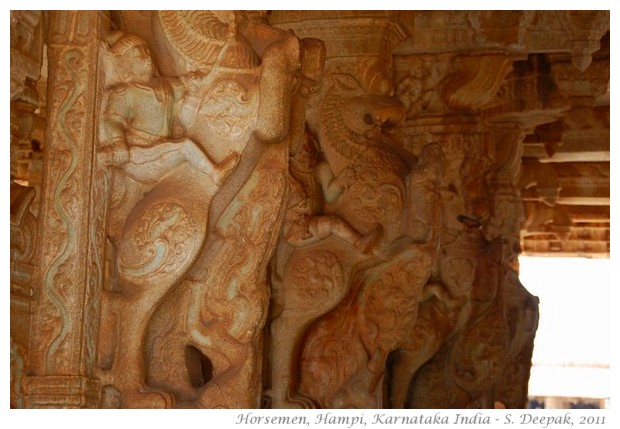 Karnataka, India: Todays images have horsemen warriors from the ruins of a temple in Hampi, that also serve as columns. This kind of making columns with human figures is supposed to have originated in ancient Greece, where female figures used as coloumns are called Caryatids and the male figures used as coloumns are called Telemon. In this sense, the Hampi columns made of horses with their front feet in the air and their sitting warriers are unique, that act as guarda to the temple entrance.
कर्णाटक, भारतः आज की तस्वीरों में हैं हम्पी में एक मन्दिर के भग्नावषेशों में बने घुड़सवार योद्धा जो खम्बों का काम करते हैं. इस तरह मानव आकृति से खम्बा बनाने की शैली का जन्म प्रचीन ग्रीस में माना जाता है जहाँ नारी रुप के बने खम्बों को केरीआटिड तथा पुरुष आकृति के खम्बों को टेलेमोन कहते हैं. इस दृष्टी से हम्पी के खम्बों पर बने, आगे वाली टाँगें ऊपर उठाये हुए घोड़े तथा उन पर बैठे योद्धा अनूठे हैं, जो मन्दिर के रक्षक होने का आभास देते हैं.
Karnataka, India: Le immagini di oggi hanno guerrieri sui cavalli dalle rovine di un tempi a Hampi, che funzionano come colonne. Si pensa che questo modo di usare figure umane per costruire colonne ha avuto origini in Grecia antica, dove le figure femminili che servono da colonne si chiamano Cariatidi mentre le figure maschili usate in questo modo si chiamano Telemon. In questo senso, le colonne di Hampi con i cavalli con le gambe anteriori alzate in aria e con i guerrieri seduti sopra sono uniche, e fanno da guardie all'entrata del tempio.
***