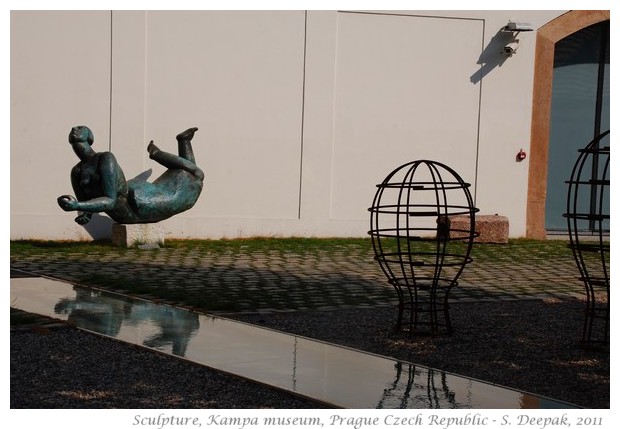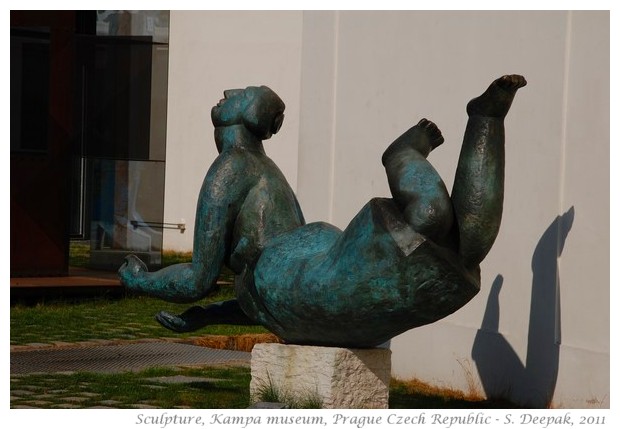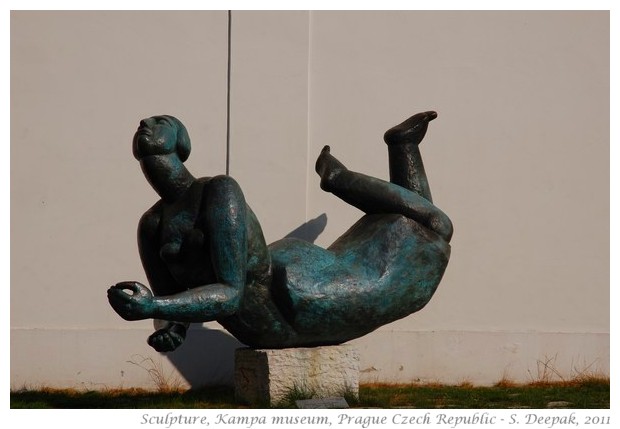 Prague, Czech Republic: As a child I had learned the nursery rhyme, Jack and Jill, where the two went up a hill and Jill tumbled down. When I saw the sculpture of blue woman in Kampa museum of Prague, my first thought was of Jill tumbling down a hill. What do you think this woman is doing? Swimming? Falling down? Looking under a bed?
प्राहा, चेक गणतंत्रः बचपन में नर्सरी स्कूल में एक कविता सीखी थी "जेक और जिल" वाली, जिसमें दोनो पहाड़ी पर जाते थे और जिल फिसल कर पहाड़ी से लुड़कती हुई नीचे गिरती थी. प्राहा के कम्पा आधुनिक कला संग्रहालय के बाहर नीली औरत की मूर्ति देख कर मुझे लगा कि यह वही जिल है जो पहाड़ी से लुड़क रही है. आप के विचार में इस मूर्ति की औरत क्या कर रही है? तैर रही है? फिसल रही है? बिस्तर के नीचे झाँक रही है?
Praga, Repubblica Ceca: Da bambino avevo imparato una filastrocca che parlava di due bambini che salvano su una collina e poi la bambina scivolava e cadeva giù. Quando ho visto la scultura di donna azzurra al museo Kampa di Praga, il mio primo pensiero era della bambina della filastrocca. Cosa pensate che fa la donna della scultura? Nuota? Sta scivolando? Vuole guardare sotto il letto?
***