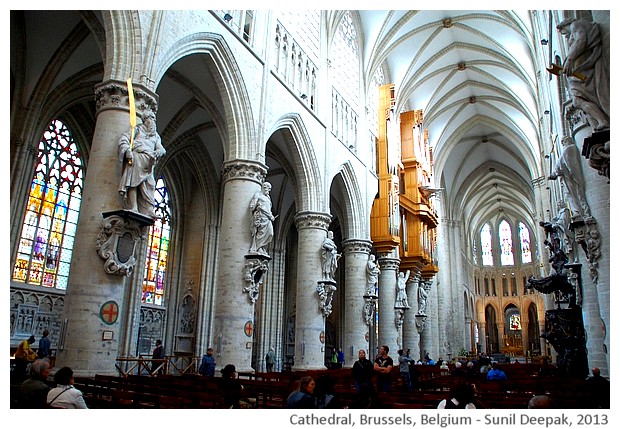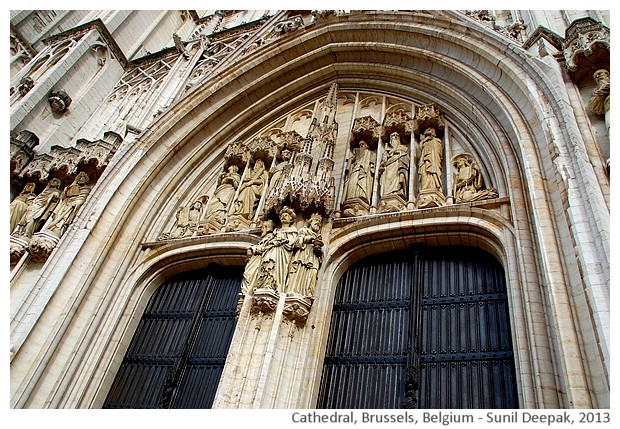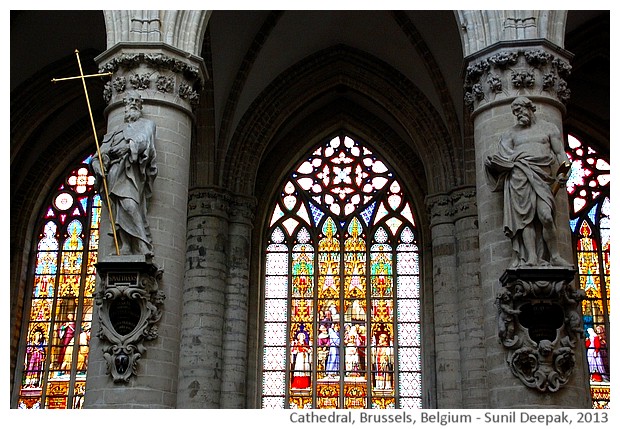 Brussels, Belgium: The construction of the cathedral was started in gothic style in the thirteenth century. Three hundred years later when it was completed, it had many elements of baroque style. A few years ago, bird lovers in Brussels were overjoyed when they found that a pair of near-extinct falcons had made a nest in one of the balconies of the cathedral. You can watch these falcons through a
live-view webcam
. Today's images have examples of gothic and baroque architectural styles from this cathedral.
ब्रस्लज़, बेलजियमः ब्रस्लज़ का कैथेड्रल तैहरवीं शताब्दी में गोथिक शैली में बनना शुरु हुआ. तीन सौ वर्ष बाद जब यह पूरा हुआ तो उसमें बारोक शैली के बहुत से अंश जुड़ गये थे. कुछ वर्ष पूर्व पक्षीप्रेमियों में खुशी की लहर दौड़ गयी जब उन्होंने देखा कि कैथेड्रल की एक बालकनी पर विलुप्त होती बाज़ों की एक जोड़ी ने वहाँ अपना घौंसला बनाया था. आप उन बाज़ों को
लाइव वेबकैम
के माध्यम से देख सकते हैं. आज की तस्वीरों में इस कैथेड्रल से गौथिक व बारोक वास्तुशिल्प शैली के कुछ नमूने.
Bruxelles, Belgio: La costruzione della cattedrale fu iniziata nel tredicesimo secolo in stile gotico. Tre cento anni dopo quando fu terminata, aveva molti elementi in stile barocco. Alcuni anni fa, gli amanti di uccelli hanno notato con gioia la presenza di una specie di falchi in via di estinzione, in una dei balconi della cattedrale. Potete guardare questi falchi da un "
webcam live
". Le foto di oggi presentano alcuni elementi gotici e barocchi della cattedrale.
***