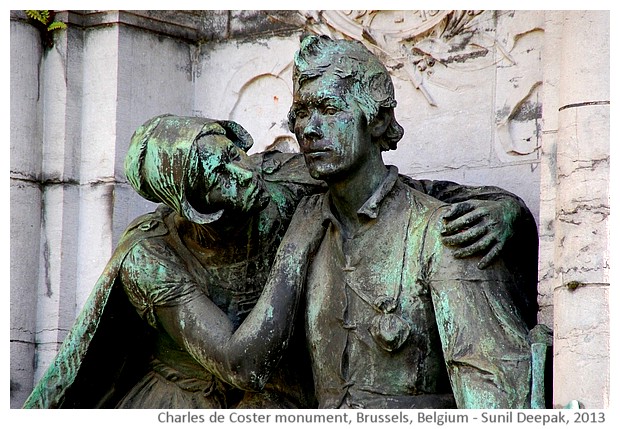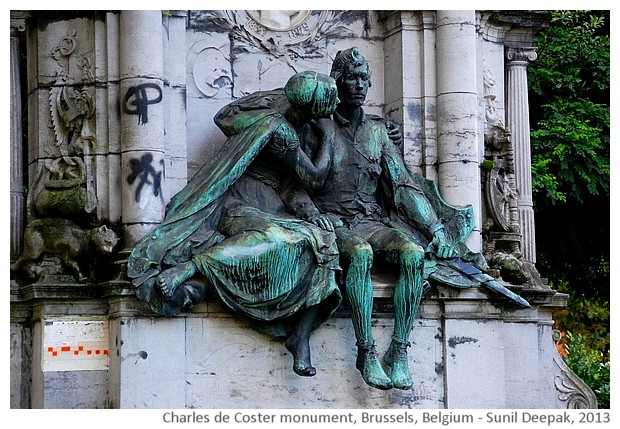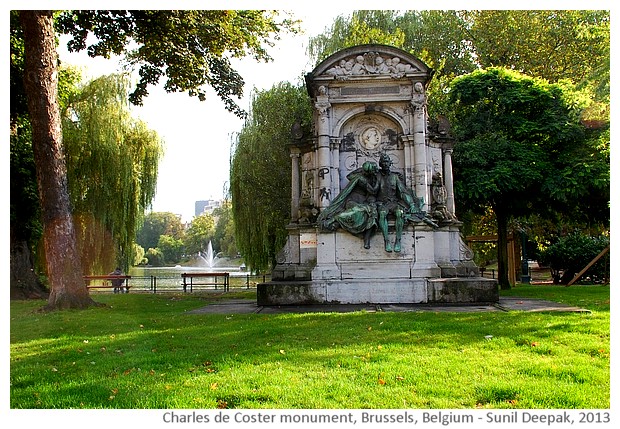 Brussels, Belgium: The two lovers at the lake are actually the characters of a book, Thyl and Nele. This is a monument to Charles De Coster, considered the father of Belgian writing. The monument is the opera of sculptor Charles Samuel, a fan of De Coster. The monument has different characters from De Coster's book - a cat, a cooking pot, a spinning rod. Ignored during his life time, De Coster often sat near this lake.
ब्रस्लज़, बेलजियमः झील के किनारे बैठे दो प्रेमी, एक उपन्यास के पात्र हैं, थाइल व नेले. यह चार्ल्स दे कोस्टेर स्मारक है जिन्हें बेलजियन लेखन का पिता माना जाता है. इस स्मारक को दे कोस्टेर के प्रशँसक शिल्पकार चार्ल्स सेमूअल ने बनाया था और स्मारक में दे कोस्टेर के उपन्यासों के विभिन्न पात्र भी हैं - एक बिल्ली, आग पर रखा सूप का पतीला, सूत कातने वाली तकली. अपने जीवन काल में उपेक्षित दे कोस्टर, इसी झील के किनारे बैठते थे.
Bruxelles, Belgio: I due amanti al lago sono i personaggi di un libro, Thyl e Nele. E' il monumento a Charles de Coster, considerato il padre della scrittura belga. Il monumento è opera di Charles Samuel, un ammiratore di De Coster, e ha diversi personaggi del suo libro - un gatto, una pentola sul fuoco, un asta di filatura. Ignorato durante la sua vita, De Coster, si sedeva spesso vicino a questo lago.
***