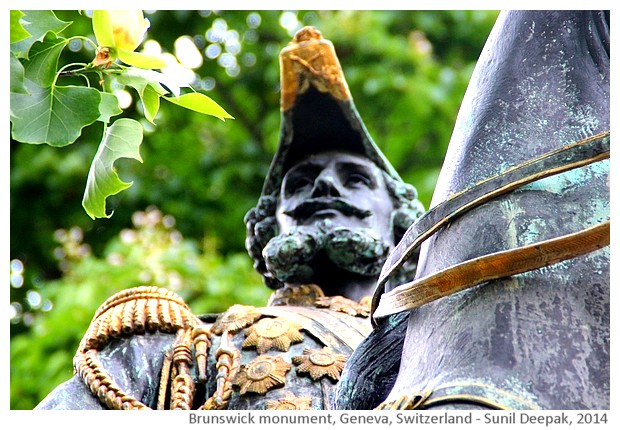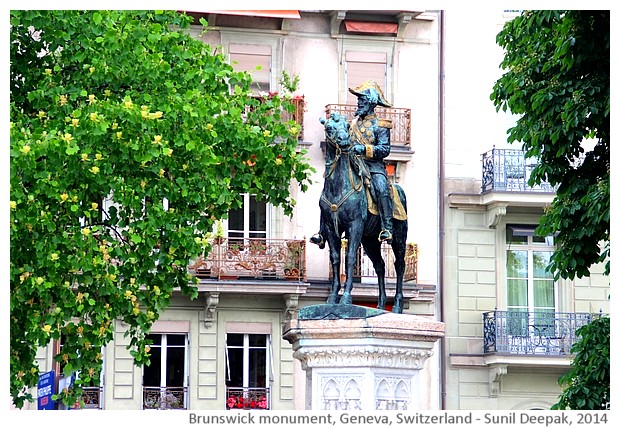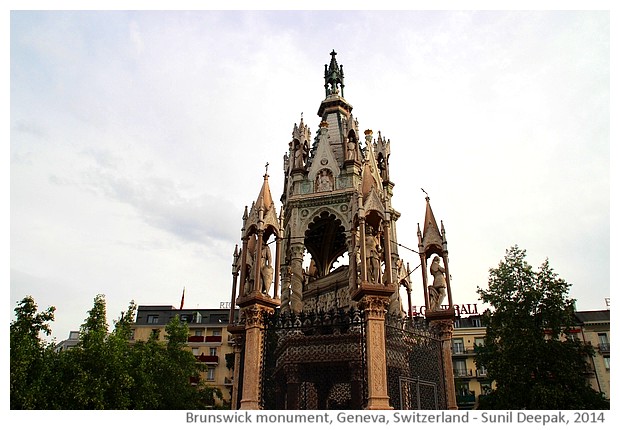 Geneva, Switzerland: The Brunswick monument is near the lake with the brave prince sitting on a horse on one side and on the other, there is his tomb, surrounded with statues. This is the monument of Karl II, from the kingdom of Brunsick in Germany, who was forced out by a public revolution because they considered him corrupt, and who had found refuge in Geneva. Corrupt or not, if you have money, someone will be happy to build a monument to remember your name!
जेनेवा, स्विटज़रलैंडः झील के किनारे पर ब्रुन्सविक स्मारक बना है जिसमें एक ओर घोड़े पर बैठा शूरवीर राजकुमार ब्रुन्सविक है और दूसरी ओर मूर्तियों से घिरी हुई उसकी कब्र. यह जर्मनी के ब्रुन्सविक राज्य के देशनिकाले राजकुमार कार्ल द्वितीय का स्मारक है, जिन्हें उनके राज्य की जनता ने उनकी भ्रष्ठता के विरुद्ध क्राँती करके राज्य से भगा दिया था और जिन्हें जेनेवा में शरण मिली थी. व्यक्ति भ्रष्ठ हो या नहीं, अगर पैसेवाला हो तो उसके सुन्दर स्मारक भी बनते हैं और लोग नाम भी याद रखते हैं!
Ginevra, Svizzera: Il monumento Brunswick è vicino al lago, dove da una parte c'è il bravo principe seduto su un cavallo e dall'altra, c'è la sua tomba circondata dalle statue. E' il monumento di Carlo II del regno di Brunswick in Germania, il quale era stato cacciato via dopo una rivoluzione popolare perché lo consideravano corrotto e lui aveva trovato un rifugio a Ginevra. Corrotti o no, se avete abbastanza soldi, qualcuno sarà felice di costruirvi un monumento per ricordare il vostro nome!
***