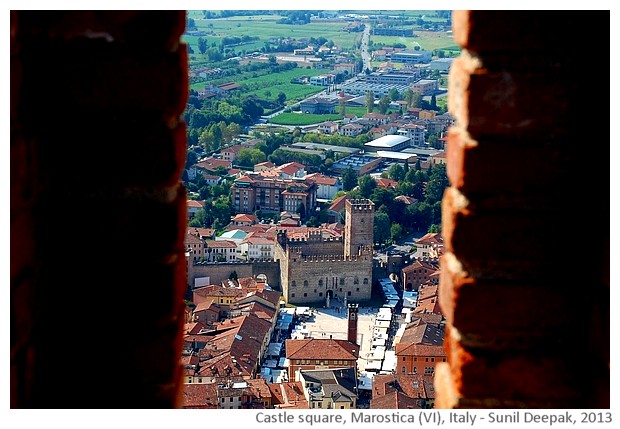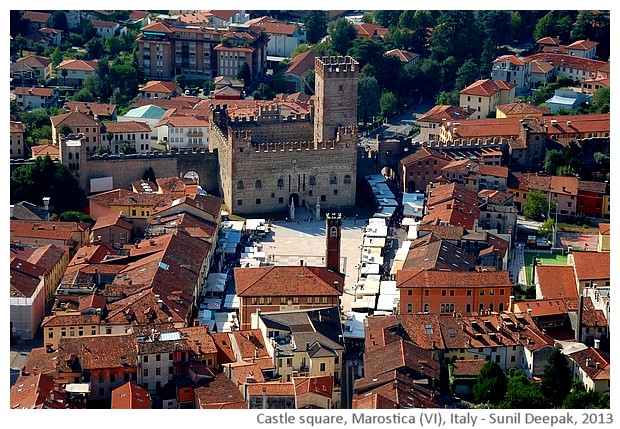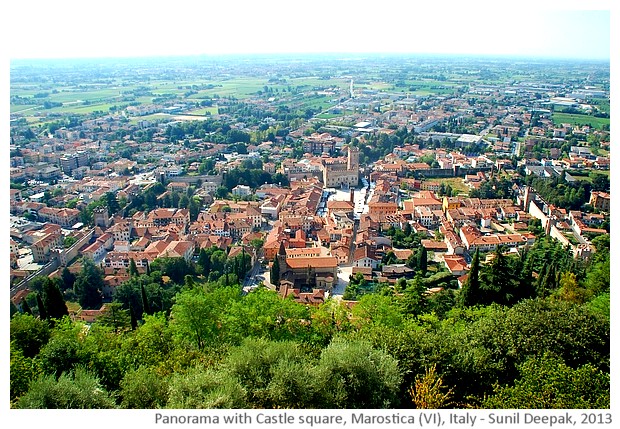 Marostica, Italy: The tiny town close to the mountains has two castles - one in the city and the other, at the top of a hill. They have a medieval story about a game of chess played by two princes to win a girl. To celebrate that game, every two years the city organises a game of live chess in the square in front of the city castle where the city's boys and girls become the chess pieces and everybody dresses in medieval costumes. Today's images have the city castle of Marostica, seen from the hill castle.
मारोस्तिका, इटलीः पहाड़ों के बीच बसे इस छोटे से शहर में दो किले हैं, एक शहर के बीच में, दूसरा एक पहाड़ी पर. कहते हैं कि मध्ययुग में यहाँ एक युवती को पाने के लिए दो राजकुमारों ने शतरंज की बाजी खेली थी. उसी शतरंज की बाजी को याद करने लिए हर दो वर्षों में यहाँ नीचे वाले किले के प्रांगण में जीवित शतरंज खेलते हैं जिसमें शहर के युवक युवतियाँ शतरंज के मौहरे बनते हैं और नगरवासी मध्ययुगीन पौशाकें पहनते हैं. आज की तस्वीरों में मारोस्तिका के पहाड़ी किले से दिखता निचला किला.
Marostica, Italia: Questo piccolo paese montano ha due castelli, uno nella città e l'altro in cima ad una collina. Hanno una storia medievale di una partita di scacchi giocata da due principi per vincere la mano di una ragazza. Per celebrare questo evento, ogni due anni la città organizza una partita di scacchi vivente nella piazza davanti al castello, dove i ragazzi locali diventano i pezzi della scacchiera e tutti si vestono in costumi medievali. Le immagini di oggi hanno il castello di sotto visto da quello di sopra.
***