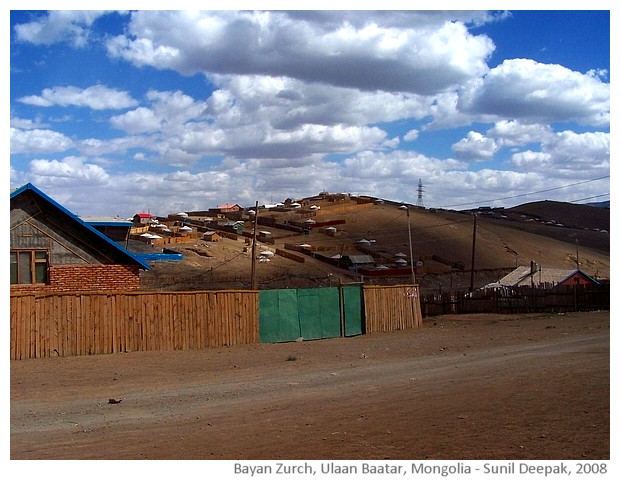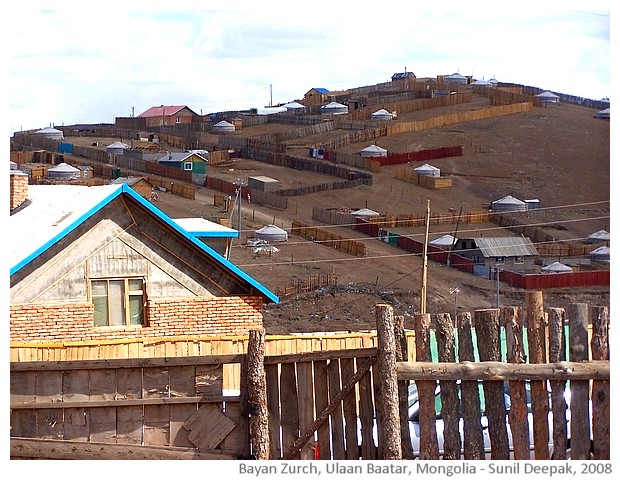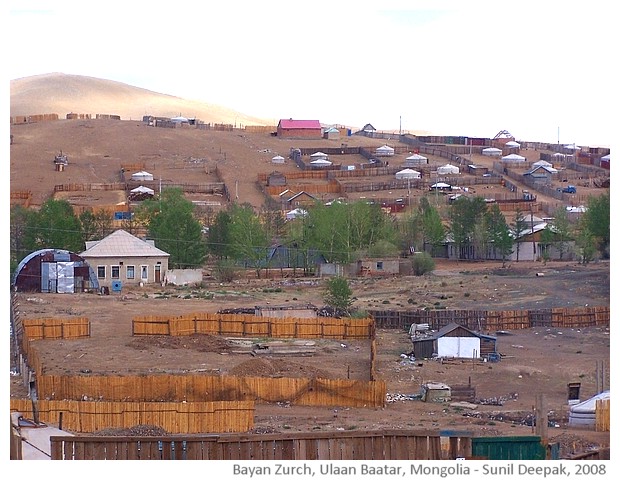 Ulaan Baatar, Mongolia: City persons live in concrete houses, not in the tents, but persons arriving from the villages do not have houses. Today's images have Bayan Zurch at the periphery of the city where persons coming from the countryside start their new city lives in the tents. These images were taken five years ago, so perhaps even there, now many tents must have been replaced by houses.
उलान बातार, मँगोलियाः शहर के लोग पक्के घरों में रहते हैं, टैन्टों में नहीं. लेकिन गाँवों से आने वाले लोगों के पास घर नहीं होते. आज की तस्वीरों में उलान बातार शहर का पहाड़ी पर बसा बाहरी हिस्सा बायानज़ुर्ख, जहाँ आसपास के प्राँतो से शहर आने वाले लोग टैन्टों में अपना नया जीवन शुरु करते हैं. यह तस्वीर पाँच साल पुरानी है, धीरे धीरे, वहाँ भी टैन्टों के जगह पर पक्के घर बन गये होंगे.
Ulaan Baatar, Mongolia: Le persone delle città vivono nelle case, non nelle tende, ma le persone che arrivano dai villaggi, non hanno le case. Le immagini di oggi sono da Bayan Zurch, nella periferia della città dove le famiglie provenienti dalle compagne, iniziano la loro nuova vita nelle tende. Queste immagini hanno 5 anni, per cui forse anche là, alcune tende saranno state sostituite dalle case.
***