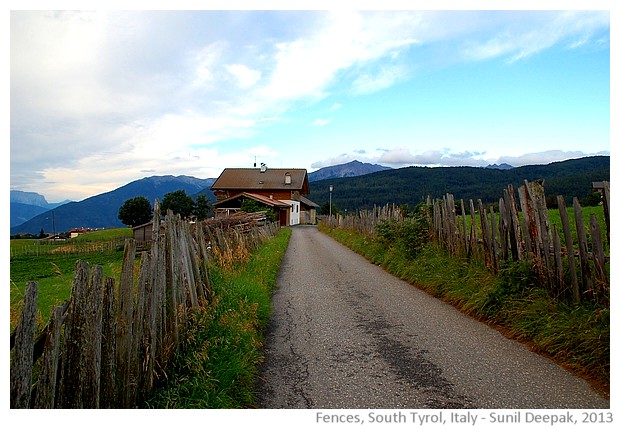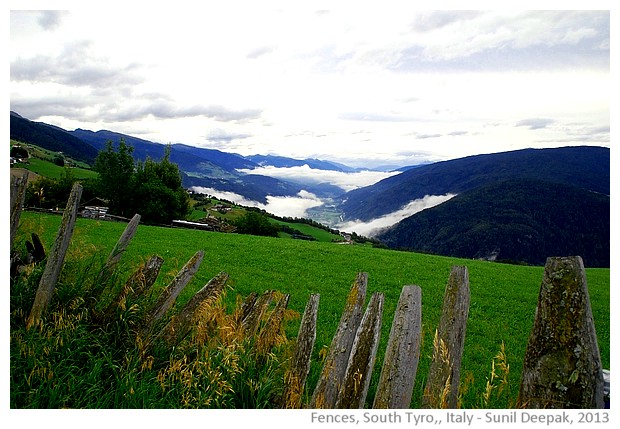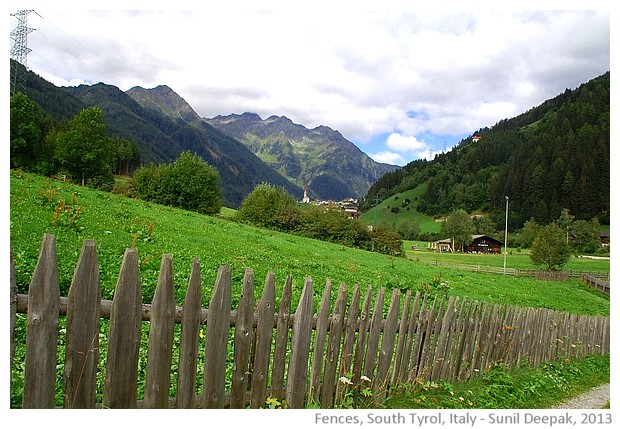 South Tyrol, Italy: I thought "if this fence had not been there, I could have taken a nice picture", thus that fence was an obstacle. Then I thought, why don't I take pictures of the fence, it is also nice. The moment I thought this, my irritation against the fence disappeared. And you, are you someone who likes sitting on the fence, trying to decide which side to take or are you someone who makes quick decisions?
दक्षिण टाइरोल, इटलीः मन में आया कि "अगर यह मेढ़ न होती तो यहाँ से कितनी सुन्दर तस्वीर आती", यानि मेढ़ मेरे सामने रुकावट थी. फ़िर सोचा, क्यों न मेढ़ की ही तस्वीर खींची जाये, इसकी भी तो अपनी सुन्दरता है. यह सोचा तो मेढ़ के प्रति मन में आयी चिड़चिड़ाहट मिट गयी. और आप, क्या आप मेढ़ पर बैठ कर सोचने वालों में से हैं कि "मैं इधर जाऊँ या उधर जाऊँ" या जल्दी से निर्णय लेने में विश्वास रखते हैं?
Sud Tirolo, Italia: Ho pensato, "se questo steccato non era qui, potevo fare una bella foto", per cui quello steccato era un ostacolo. Poi ho pensato, perché non posso prendere le foto degli steccati, sono belli anche loro. Appena ho pensato questo, la mia irritazione verso gli steccati è svanita. E tu, sei uno che si siede sullo steccato senza riuscire a decidere chi ti convince di più o sei quello che decide subito?
***