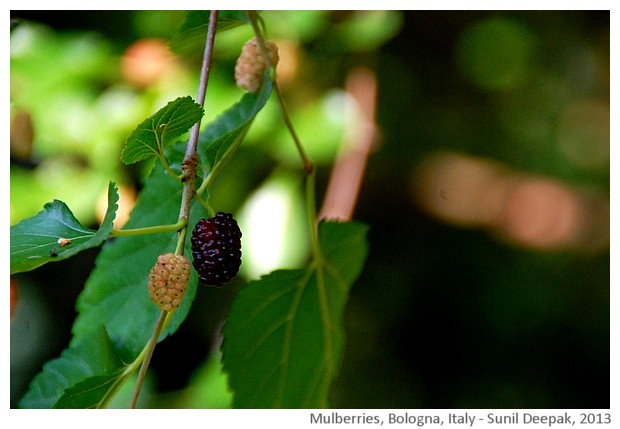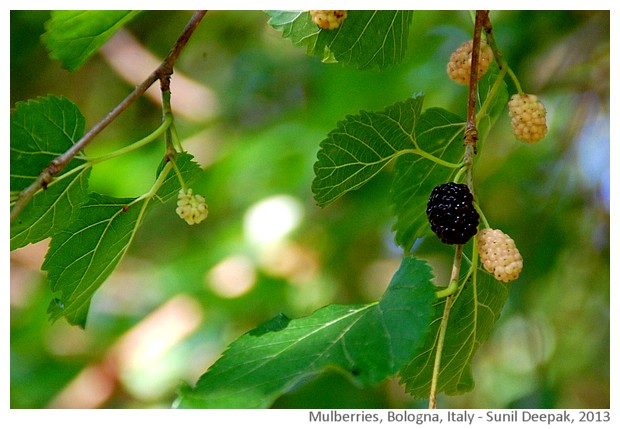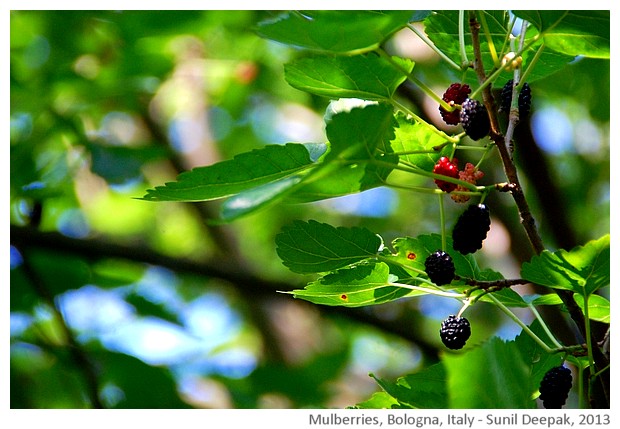 Bologna, Italy: In our school in Delhi, there was a mulberry tree but I had never seen mature mulberries on it because children use to eat whatever fruit they saw. Here, near our home the mulberry trees are full of fruit but few persons eat them and mostly the fruit falls on the ground. Every time I eat mulberries I feel as if I have turned into a child because when I come back to home with my hands and mouth purple and stain marks on my shirt, I know that my wife will scold me!
बोलोनिया, इटलीः दिल्ली में स्कूल में एक शहतूत का पेड़ था जिसपर कभी कोई विरला ही पका शहतूत दिखता था क्योंकि बच्चे उसे कच्चा ही खा जाते थे. यहाँ घर के पास पेड़ों पर इतने शहतूत लगते हैं पर उन्हें खाने वाले कम ही हैं, अधिकतर फ़ल वहीं गिर जाता है. पर शहतूत खाने में बचपन लौट आता है, क्योंकि जब जामुनी हाथ व मुख के साथ कमीज़ पर जामुनी दाग ले कर घर लौटता हूँ तो मालूम होता है कि पत्नी की डाँट खाने को मिलेगी!
Bologna, Italia: A Delhi, nella mia scuola c'era un gelso, ma non avevo mai visto i gelsi maturi su quel albero perché i bambini mangiavano tutta la frutta che vedevano. Qui, vicino la nostra casa, vi sono alberi pieni di gelsi, ma pochi li mangiano e la maggior parte della frutta cade per terra. Ogni volta che mangio i gelsi, mi sembra di tornare un bambino perché quando torno a casa con le mani e la bocca viola e con le macchie sulla mia camicia, so che mia moglie mi sgriderà!
***