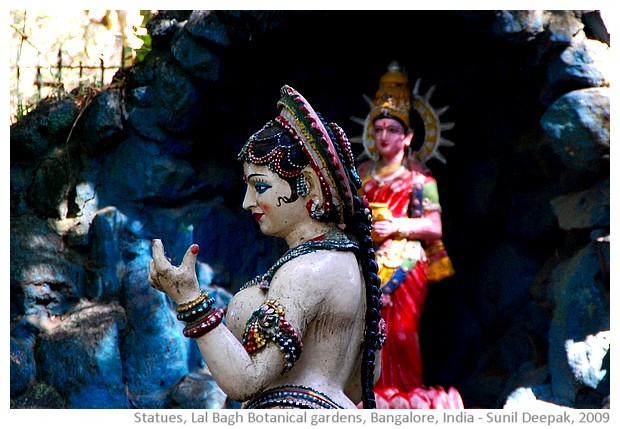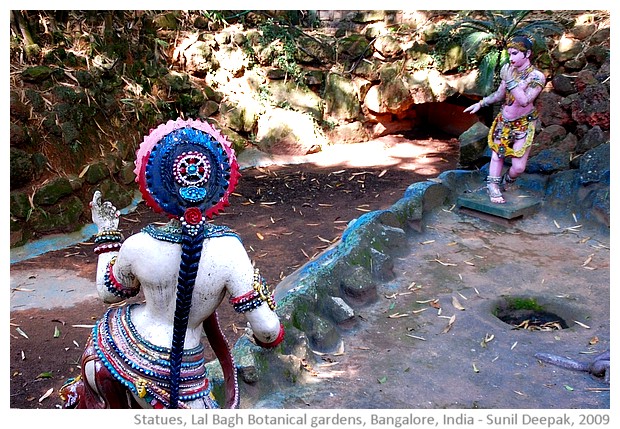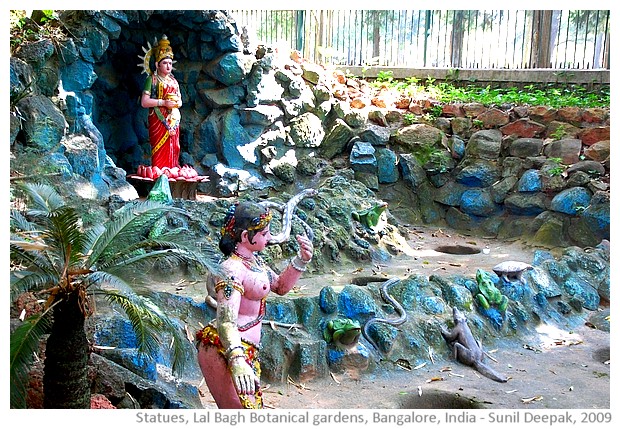 Bangalore, India: In the traditional statues from the Lal Bagh Botanical Gardens, I see the joy of colours and an expression of women's emotions and sexuality. At the same time, the society that accepts similar expressions of popular art, in the daily life asks for binding and hiding women's bodies and behaviours behind veils and social norms.
बँगलौर, भारतः लाल बाग बोटेनिकल गार्डन की इन पाराम्परिक मूर्तियों में मुझे रँगों का उल्हास, नारी भावों की व यौनिकता की स्वच्छँद अभिव्यक्ति दिखती है. जिस समाज में जन कला का यह रूप दिखता है, वही समाज सामान्य जीवन में नारी शरीर व व्यवहार को निषेधों से बाँधने वा पर्दों के पीछे छुपाने को विवश भी करता है.
Bangalore, India: Nelle statue tradizionali ai giardini botanici Lal Bagh, mi sembra di vedere la gioia dei colori e un'espressione delle emozioni e della sessualità femminile. Allo stesso momento, la società che accetta simili espressioni dell'arte popolare, nella vita quotidiana chiede che i corpi e i comportamenti femminili siano legati e nascosti dietro veli e norme sociali.
***