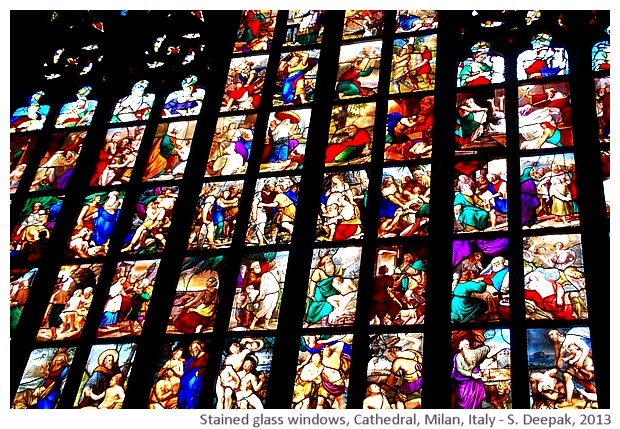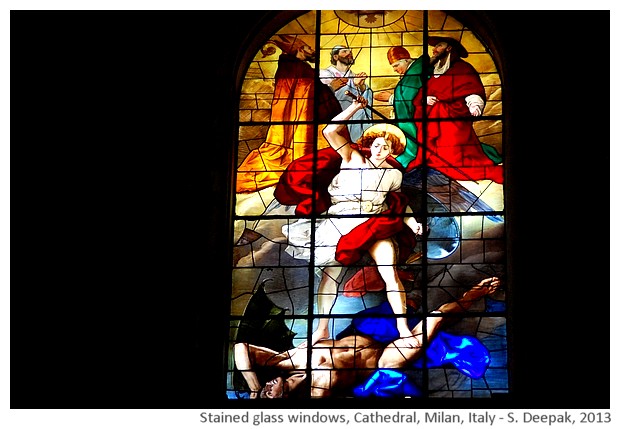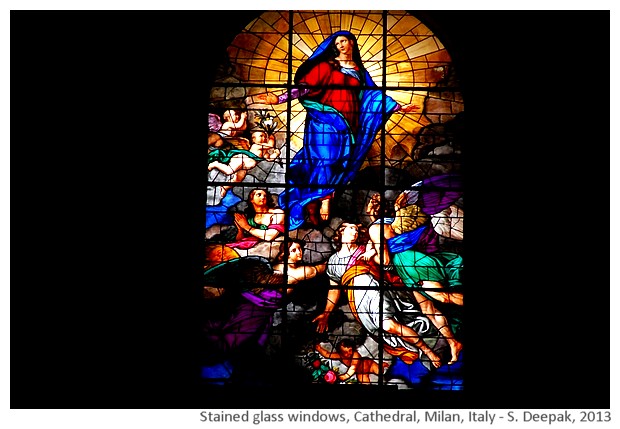 Milan Italy: Putting together pieces of glass of different colours to make stained glass windows that show picture stories is a complex art because usually such windows are huge, and apart from the beauty of the art, they need lot of strength. In the old times when books were not common, these pictures stories kept alive the memories of scriptures. Today's glass picture-stories are from cathedral of Milan.
मिलान, इटलीः रंग बिरंगे शीशे के टुकड़ों को जोड़ कर चित्रकथाओं वाली खिड़कियाँ बनाना एक जटिल कला है, क्योंकि इस तरह की अधिकतर खिड़कियाँ बहुत बड़ी होती हैं जिसके लिए सुन्दरता के साथ साथ मज़बूती की आवश्यकता भी होती है. प्राचीन समय में जब किताबें आम नहीं होती थीं, उस समय यही चित्रकथाएँ प्राचीन कहानियों की याद दिलाती थीं. आज की शीशे की खिड़कियों पर बनी यह चित्रकथाएँ मिलान के केथेड्रल से.
Milano, Italia: Mettere insieme i pezzi colorati di vetro per costruire finestre che raccontano le storie è un'arte complessa perché spesso queste finestre sono enormi e oltre alla bellezza dell'arte, devono assicurare la resistenza. In passato quando i libri non erano molto comuni, queste storie illustrate tenevano vive le memorie delle sacre scritture. I vetri colorati di oggi sono dal Duomo di Milano.
***