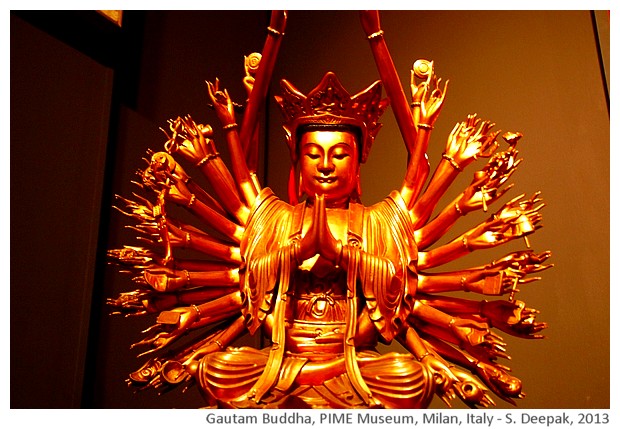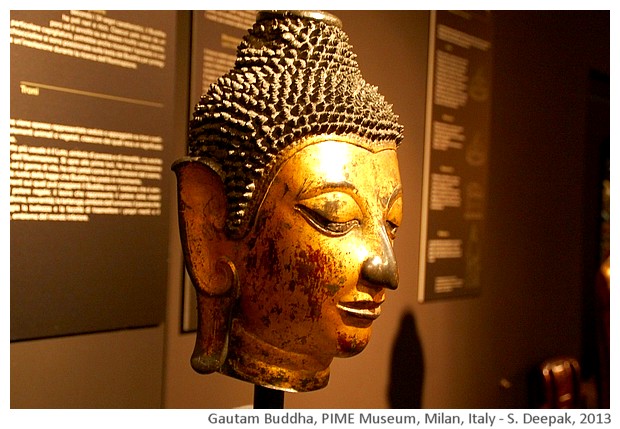 Milan, Italy: Gautama means the one who wins over darkness by his own light. There are traditions that guide how the Buddha statues are made. For example, his earlobes are always shown elongated, as he was a prince and wore heavy ear-rings, and then after being illuminated, he gave up those ear-rings, thus the long ears signify renunciation. Today's images have Gautama Buddha from three different Asian traditions. Buddha of the first image has 48 arms, is from China and is called "Buddha of Gyanyin with thousand arms".
मिलानो, इटलीः गौतम यानि अपने प्रकाश से तमस (अँधेरे) को मिटाने वाला. गौतम बुद्ध की प्रतिमाओं को बनाने के भी नियम हैं. जैसे कि उनके कानों को हमेशा लम्बा दिखाया जाता है, क्योंकि वह राजकुमार थे और भारी कर्णकुण्डल पहनते थे, फ़िर जब वह तपस्या से बुद्ध बने, तब उन्होंने उन कुण्डलों को त्याग दिया, इस तरह उनके लम्बे कर्ण त्याग की निशानी हैं. आज की तस्वीरों में एशिया के तीन देशों से गौतम बुद्ध. पहली तस्वीर वाले बौधिसत्व की 48 भुजाएँ हैं, यह चीन से है जहाँ इसे "गुआनयिन का सहस्रबाहू बुद्ध" कहते हैं.
Milano, Italia: Gautam significa colui che sconfigge il buio con la propria luce. Vi sono tradizioni che regolano l'iconografia buddista. Per esempio, le sue lobi delle orecchie sono sempre allungate perché lui era un principe e portava gli orecchini, ma quando lui raggiunse l'illuminazione rinunciò agli orecchini e così le lobi allungate delle orecchie significano la rinuncia. Le immagini di oggi hanno Gautam Buddha da tre diverse tradizioni asiatiche. Il Buddha della prima immagine ha 48 braccia, è dalla Cina e si chiama "Buddha delle mille braccia da Gyuanyin".
***