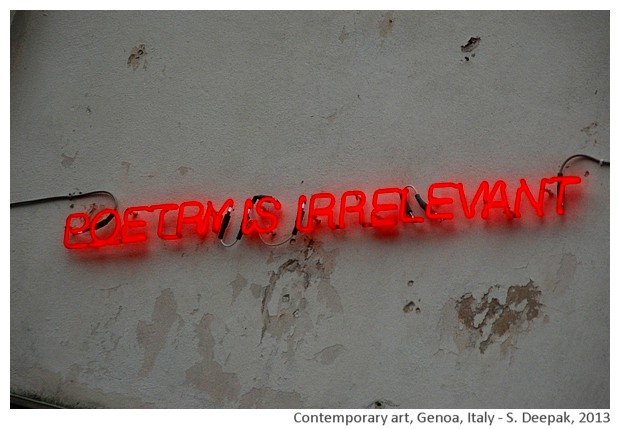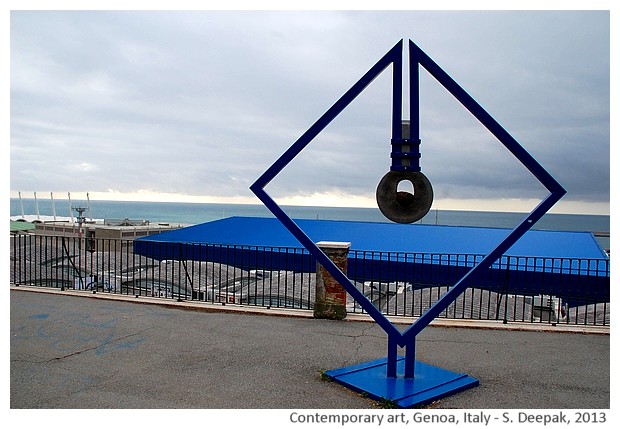 Genoa, Italy: One of the objectives of art is to stimulate new sensations. Look at the three examples of modern art from the Contemporary Art Museum of "Villa Croce" in Genoa and tell me which one stimulates new sensations in you? Personally, I was shocked by the phrase in the first image that "poetry is irrelevant" and it made me think. So tell me, what is the importance of poetry?
जेनोवा, इटलीः कला का एक ध्येय है कि आप को नयी अनुभूति देना. जेनेवा के "विल्ला क्रोचे" नाम के समसामयिक कला संग्रहालय से कला के इन तीन नमूनों को देखिये और बताईये कि आप को किस कला से नयी अनूभूति मिली? मुझे पहली तस्वीर के वाक्य कि "कविता महत्वहीन है" ने चौंका दिया और सोचने पर विवश किया. बताईये, कविता का क्या महत्व है?
Genova, Italia: Uno degli obiettivi dell'arte è di stimolare nuove sensazioni. Guardate i tre esempi dell'arte moderna dal museo dell'arte contemporanea Villa Croce di Genova e ditemi se una di queste vi stimola nuove sensazioni? Personalmente, ero scioccato dalla frase nella prima immagine che "poesia è irrilevante". Vuoi cosa pensate, a cosa serve la poesia?
***