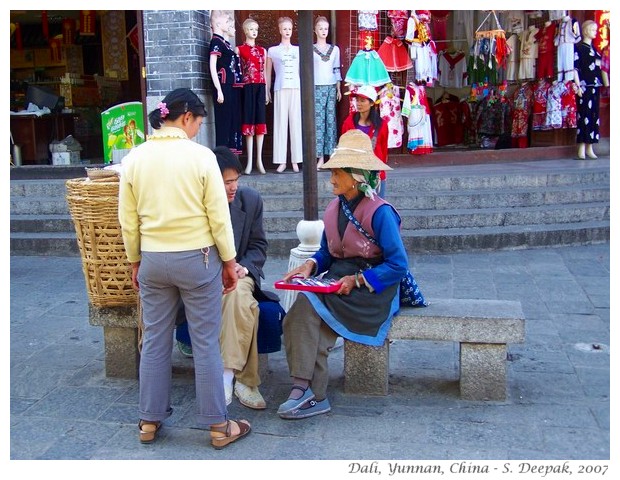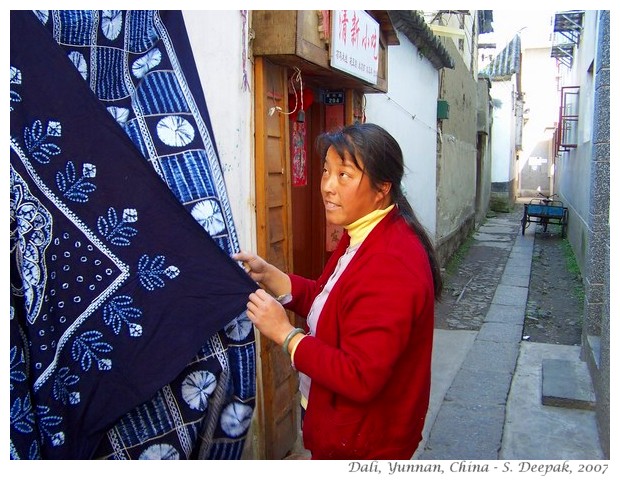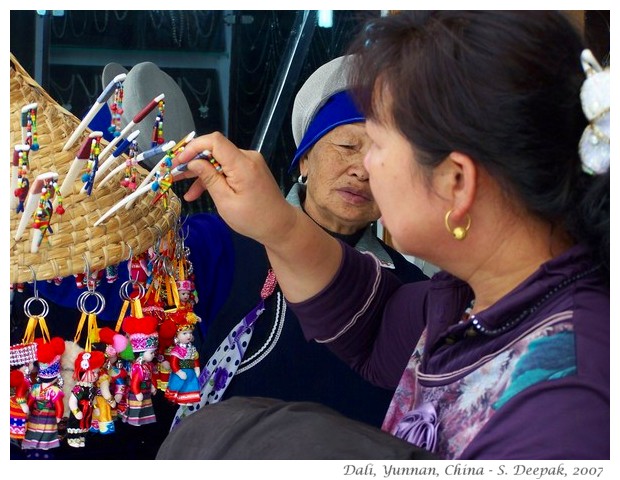 Dali, Yunnan, China: During journeys, I like taking pictures of shops where I buy something. It makes me feel that along with the thing I have bought, I have also got a little bit of its history with me. Today's images have street sellers from south-western part of China. The bedcover the woman in the middle picture is showing, I had bought it and it is in our home.
दली, युन्नान, चीनः यात्रा के दौरान जहाँ से कोई चीज़ खरीदी हो, मुझे उस दुकान की तस्वीर लेने का शौक है, लगता है कि जो चीज़ खरीदी उसके साथ उसका छोटा सा इतिहास भी साथ ले आया. आज की तस्वीरों में चीन के दक्षिण पश्चिमी भाग की एक यात्रा से पटरी पर सामान बेचने वाले लोग. बीच वाली तस्वीर में युवती जो नीली चद्दर दिखा रही है, वही हमारे घर में बिछी है.
Dali, Yunnan, Cina: Durante i viaggi, mi piace fotografare i negozi dove compro qualcosa. Così mi sembra di aver preso anche una piccola parte della storia del oggetto comprato. Le immagini di oggi hanno venditori ambulanti da un viaggio nel sud ovest della Cina. Il copriletto che mostra la signora nell'immagine di mezzo, l'avevo comprato ed è nella nostra casa.
***