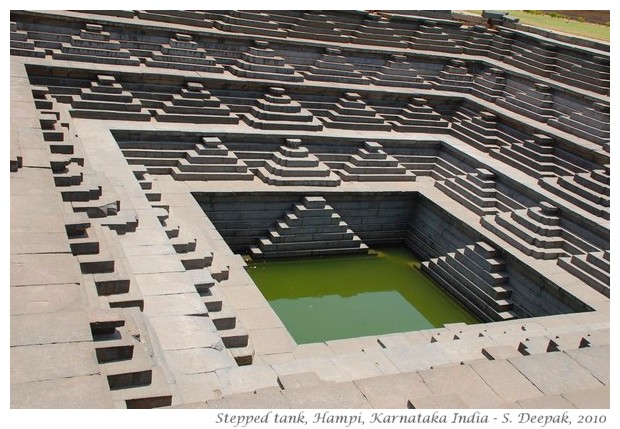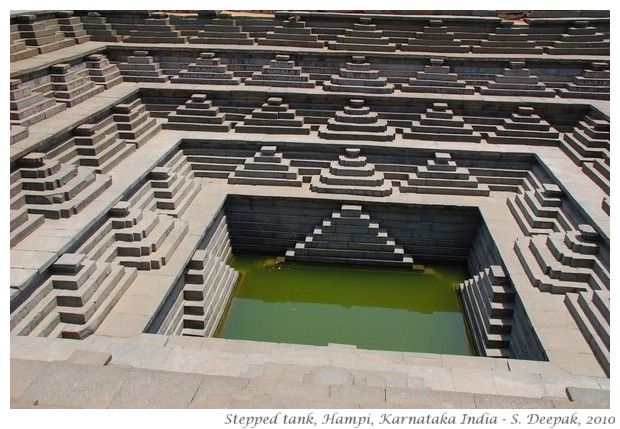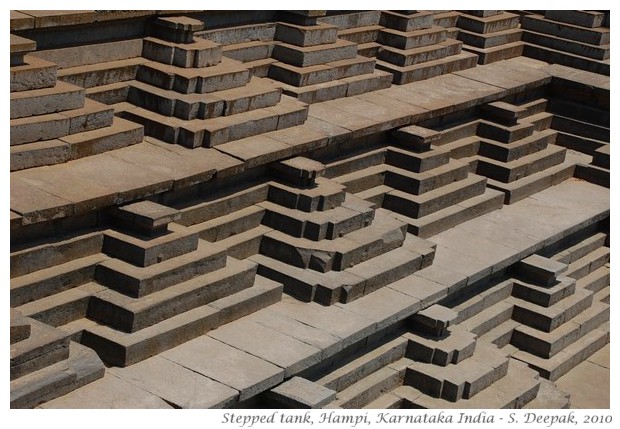 Hampi, India: When I saw the water tank with five levels of steps in Hampi, I remembered a similar water tank from Rajasthan, shown in the Hindi film "Paheli". I had also seen images of a similar water tank from Gujarat. This means that around 7-8 hundred years ago, different states of India took architectural inspirations from each other and probably there was exchange of architecture experts.
हम्पी, भारतः हम्पी की पाँच स्तर पर बनी सीढ़ियों वाली बावड़ी देखी तो "पहेली" फ़िल्म की कुछ इसी तरह की सुन्दर सीढ़ियों वाली राजस्थानी बावड़ी की याद आ गयी. इसी शैली की सीढ़ियों वाली बावड़ी की कुछ तस्वीरें गुजरात से भी देखी थीं. इसका अर्थ हुआ कि सात‍-आठ सौ साल पहले के भारत में विभिन्न प्रदेश एक दूसरे से वास्तुशिल्प की प्रेरणा लेते थे और उनमें शायद कुशल कारीगरों का आदान प्रदान भी होता था.
Hampi, India: Quando ho visto il pozzo d'acqua con cinque livelli di scale a Hampi, mi sono ricordato di un simile pozzo del Rajasthan che avevo visto nel film "Paheli". Ho visto le foto di un simile pozzo anche dallo stato di Gujarat. Ciò significa che 7-8 cento anni fa, vi era scambio di stili architettonici tra i vari stati indiani e forse si scambiavano anche gli architetti esperti.
***