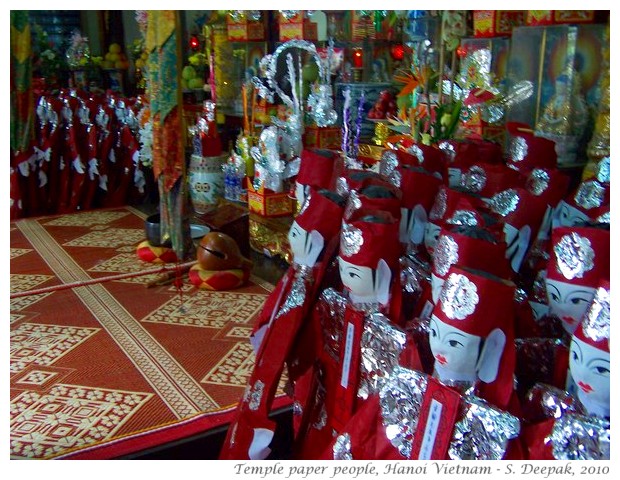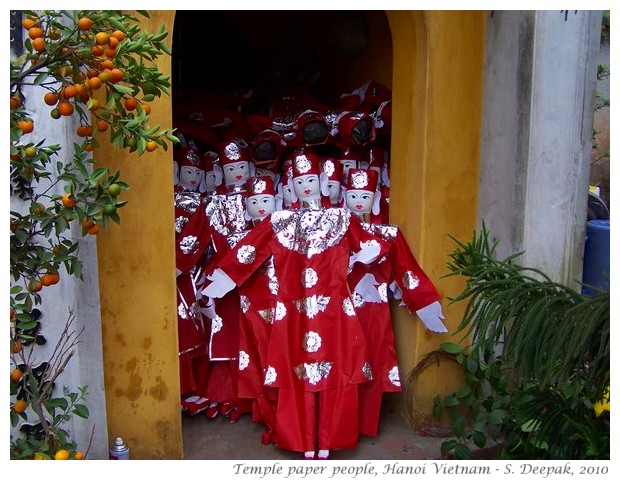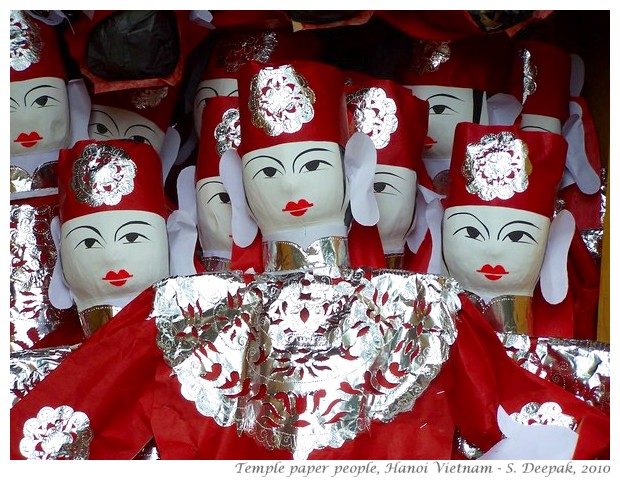 Hanoi, Vietnam: In Vietnam the majority religion is a mix of Buddhism, Confucianism and Taoism. In a temple near Ho Chi Minh memorial, I saw offerings of paper people. I think that the paper person is a symbol of our ancestors that we offer to the temple, so that our ancestor has the blessings of Buddha.
हानोई, वियतनामः यहाँ के अधिकतर लोगों का धार्मिक विश्वास, बुद्ध, कन्फूशियस और ताओ धर्मों का सम्मिश्रण है. राजधानी में "हो ची मिन्ह मैमोरियल" के पास मैंने देखा कि एक मन्दिर में लोग इन कागज़ी मानवों को भगवान को चढ़ा रहे थे. मेरे विचार में कागज़ी मानव इस प्रार्थना में हमारे पूर्वजों के प्रतीक हैं. इस तरह मन्दिर में पूर्वज को भगवान बुद्ध का आशीर्वाद मिलता है.
Hanoi, Vietnam: In Vietnam, la credenza religiosa più comune è una miscela di buddismo, confucianesimo e taoismo. In un tempio vicino il memoriale di Ho Chi Minh, in un tempio ho visto le persone fare offerte di figure umane di carta. Penso che le figure umane sono simboli dei nostri antenati che offriamo al tempio, così i nostri antenati hanno la benedizione di Buddha.
***