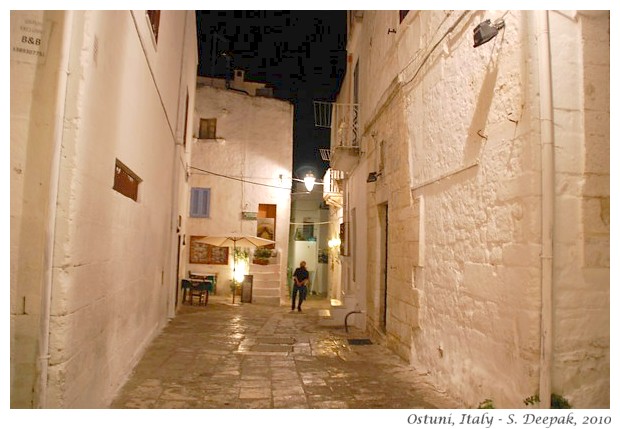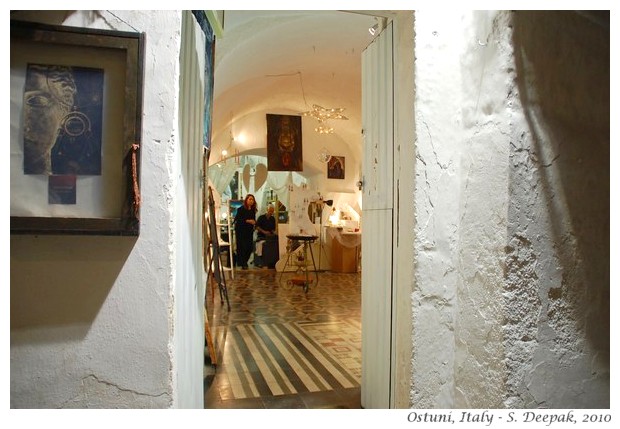 Ostuni, Italy: Language and society are closely linked. For example, narrow streets that are called "
galiyan
" in Hindi and "
stradine
" in Italian, do not have a specific term in English, where narrow or wide, they are still called roads or streets. This means that for societies of India and Italy, there is a social significance of narrow streets that was not there in English language. Today I have to leave for a visit to south of Italy for a few days so today's images are from Ostuni, a beautiful town in south of Italy. Ostuni is also called the "white city" because all the houses in old hilly part of the city are painted white.
ओस्तूनी, इटलीः भाषा और समाज में गहरा सम्बन्ध है. जैसे कि छोटी, तंग सड़कें जिन्हें हम गलियाँ कहते हैं और इतालवी भाषा में स्त्रादीने, लेकिन अंग्रेज़ी में ऐसे रास्तों के लिए कोई विषेश शब्द नहीं है. अंग्रेज़ी में चाहे सड़क चौड़ी हो या संकरी, उसे स्ट्रीट या रोड ही कहेंगे. यानि, भारत और इटली में पास पास बने घरों के बीच में बनी "गलियों" का जो सामाजिक महत्व है वह अंग्रेज़ी भाषा में नहीं है. आज मुझे दक्षिण इटली में कुछ दिनों की यात्रा के लिए रवाना होना है, तो इसीलिए मैंने आज की तस्वीरें दक्षिण इटली के छोटे से शहर ओस्तूनी की गलियाँ चुनी हैं. ओस्तूनी को "श्वेत शहर" भी कहते हैं, क्योंकि यहाँ के प्राचीन भाग में पहाड़ी पर बने सभी घर सफेद रंग के हैं.
Ostuni, Italia: Le nostre lingue sono strettamente collegate alla società. Per esempio, le stradine si chiamano "
galiyan
" in hindi, ma non hanno un termine specifico in inglese, dove si chiamano "streets", che siano strette o che siano larghe. Oggi devo partire per un viaggio nel sud Italia per cui le immagini di oggi sono di Ostuni, una bellissima città in sud Italia. Ostuni si chiama anche la città bianca perché tutte le case nella parte vecchia sulla collina sono imbiancate in bianco.
***