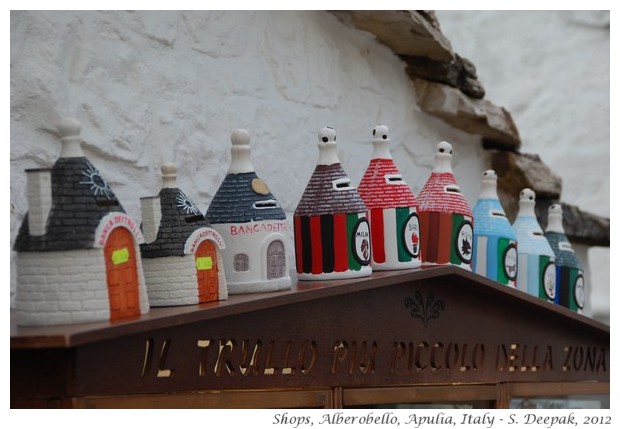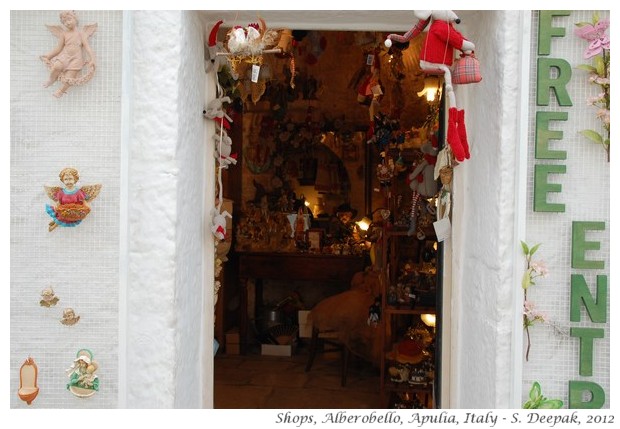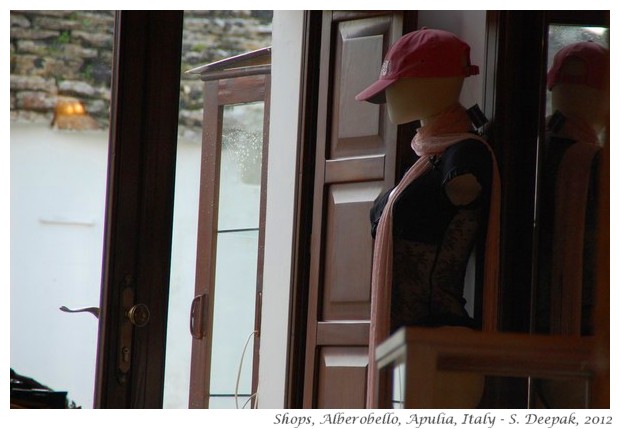 Alberobello, Italy: In our normal lives we are in too much hurry, rushing around and hardly stopping to look at things carefully. For me photography is the medium for stopping and looking at the world. For example, the second image above, I looked at it for a long time, looking at the details of each thing on the wall, on the door frame and inside the shop, where the warm glow of light contrasts beautifully with the stark white of the wall outside. Today's images have some shops for tourists.
अल्बेरोबेल्लो, इटलीः अपने सामान्य जीवन में हम हर समय जल्दी में होते हैं, भागाभागी में रुक कर ठीक से देखने का समय नहीं होता. मेरे लिए फोटोग्राफी रुक कर दुनिया को देखने का माध्यम है. उदाहरण के लिए ऊपर की दूसरी तस्वीर को लीजिये, मैं इसे बहुत समय तक देखता रहा, दीवार पर लगी, दरवाज़े पर लगी और दुकान के भीतर की हर वस्तु को, भीतर की गर्म रोशनी बाहर की दीवार की सफ़ेदी से सुन्दर विरोधाभास देती है. आज की तस्वीरों में पर्यटकों के लिए बनी दुकानें.
Alberobello, Italia: Nella vita normale siamo sempre di corsa e non abbiamo mai il tempo per fermarci e guardare le cose con calma. Per me, la fotografia è il mezzo per fermarmi e guardare il mondo con calma. Per esempio la seconda immagine sopra, l'ho guardato per molto tempo, guardando ogni cosa esposta sul muro fuori, sulla porta e dentro il negozio, dove la calda luce contrasta con il bianco del muro fuori in maniera bellissima. Le immagini di oggi hanno i negozi per i turisti.
***