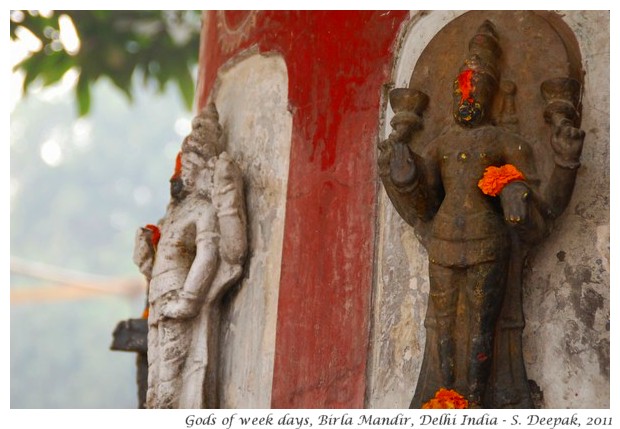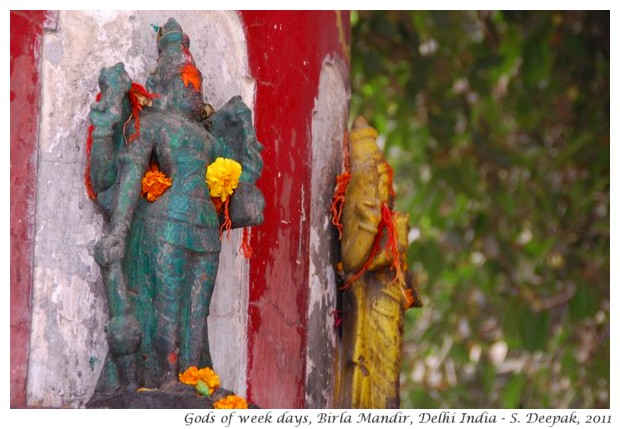 Delhi, India: Every day of the week is named after a planet god. The surpising thing is that the planets chosen for each day in the Hindu calendar are exactly the same as the planets selected in Roman calendar. Thus "Somwar" (moon day) of India is also the moon-day in the west and "Shaniwar" (Saturday) is also saturn-day in the west. Traditional list of planets in India also includes two "shadow-planets" (Rahu and Ketu), but no week-days are dedicated to them. How did this happen to have common names between India and the west? Do middle-eastern countries also have similar names based on the planets? Today's images are of planet gods from Birla temple in Delhi.
दिल्ली, भारतः सप्ताह के हर दिन का नाम एक नक्षत्र देवता से जुड़ा है. मुझे यह सोच कर आश्चर्य होता है कि भारत के हिन्दू कैंलेंडर ने सप्ताह के जो दिन चुने, पश्चिमी रोमन कैलेंडर में भी सप्ताह के हर दिन के नाम उन्हीं नक्षत्रों पर हैं. इस तरह से हमारे "सोमवार" को वे भी सोम यानि चन्द्र का दिवस मानते हैं, हमारे शनिवार को वे भी शनि का दिवस मानते हैं. भारतीय नक्षत्रों की पाराम्परिक सूची में दो "छाया नक्षत्र" (राहू और केतू) भी हैं लेकिन उनके नाम पर कोई सप्ताह का दिन नहीं रखा गया. यह कैसे हुआ कि भारत तथा पश्चिमी दिनों के नाम एक जैसे नक्षत्रों पर रखे गये? क्या मध्य पूर्व के देशों में भी सप्ताह के नाम इससे मिलते जुलते हैं? आज की नक्षत्र देवताओं की छवियाँ दिल्ली के बिरला मन्दिर से हैं.
Delhi, India: Il nome di ciascun giorno della settimana è associata ad un pianeta. Mi sorprende il fatto che i pianeti scelti per dare questi nomi nel calendario indù in India sono uguali ai nomi scelti nel calendario romano. Il "lunedì" romano è il giorno della luna e il "sabato" romano è il giorno di saturno anche in calendario indiano. La lista tradizionale dei pianeti indiani comprende due "pianeti ombra" (Rahu e Ketu), ma essi non danno il loro nome ad un giorno della settimana. Come è successo questo di avere nomi dei giorni simili tra India e occidente? Anche i paesi del medio-oriente hanno nomi dei gironi simili? Le immagini dei dei pianeti sono del tempio Birla di Delhi.
***