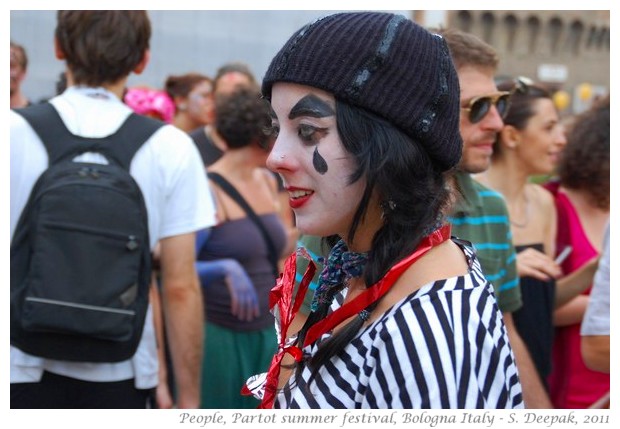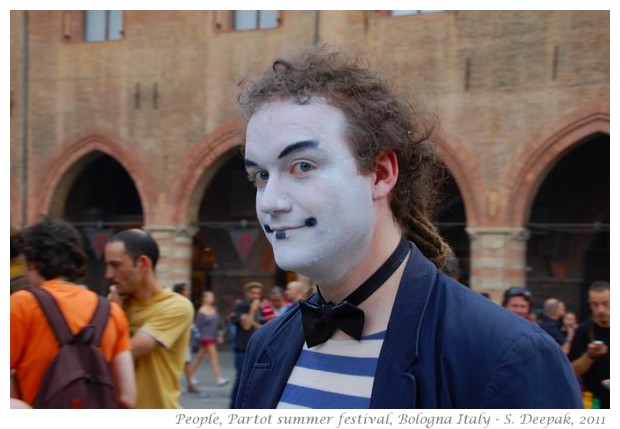 Bologna, Italy: Mask means covering your face to hide your emotions, as the face is supposed to be the mirror of our inner world. But in a world where everyone is in a hurry, and has no time to look at your emotions, masks can also serve to express those hidden emotions like the people in these images.
बोलोनिया, इटलीः मखौटा यानि चेहरे को ढक लेना ताकि अन्य लोग आप के मन में क्या है यह जान न पायें, क्योंकि चेहरा आत्मा का दर्पण होता है. लेकिन अगर आज की भागती दुनिया में लोगों के पास आप के चेहरे से आप की भावनाओं को समझने का समय नहीं हो तो मुखौटा भावनाओं को अभिव्यक्त करने का माध्यम भी हो सकता है जैसे कि आज की तस्वीरों के चेहरे जो रंगों के माध्यम से अपनी भावनाओं को कह रहे हैं.
Bologna, Italia: Maschera vuol dire nascondere le proprie emozioni, perché le nostre facce sono le finestre ai nostri mondi interni. Ma in un mondo che è sempre di corsa, e nessuno ha tempo di capire le nostre emozioni, le maschere possono servire anche per esprimere le emozioni nascoste, come le persone nelle immagini di oggi.
***