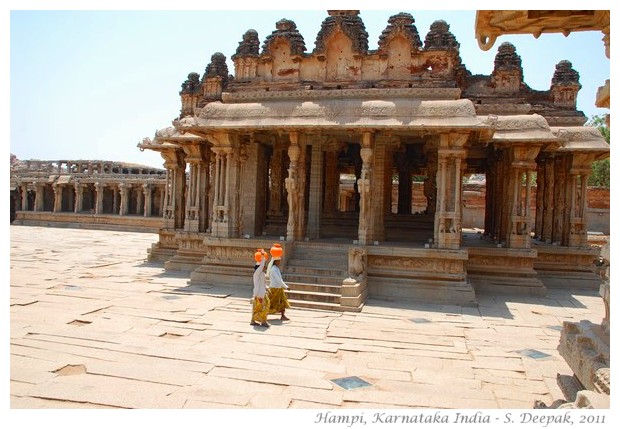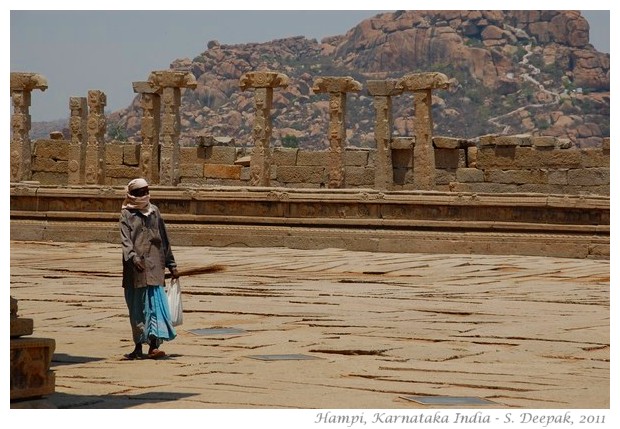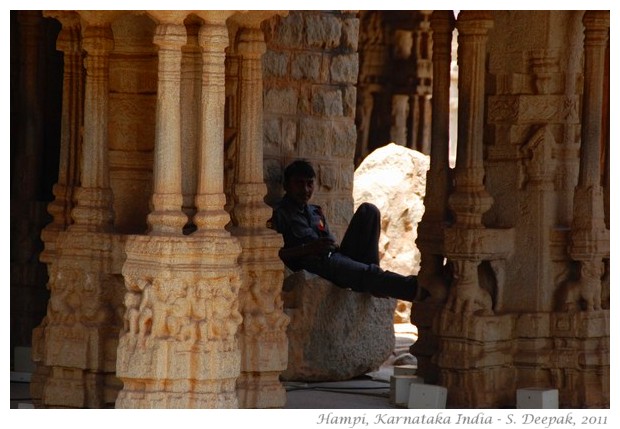 Karnataka, India: Today's images have people working near the ruins of Hampi. If you stop and think, even small things tell stories of changing times. Like the colourful water pots on the heads of two women. Even in the train journey, there were no earthen glasses for the tea, it came in plastic glasses. So what happened to those persons who used to make earthen pots and glasses?
कर्णाटक, भारतः आज की तस्वीरों में हम्पी के भग्नावशेषों में वहाँ काम करने वाले लोग हैं. अगर सोचो तो छोटी छोटी बातें बदलते समय की कहानियाँ सुनाती है. जैसे के दो औरतों के सिरों पर प्लास्टिक के मटके. रेल यात्रा में चाय भी मिट्टी के कुल्हड़ में नहीं बल्कि प्लास्टिक के गिलास में मिली थी. तो उन लोगों को क्या हुआ जो मिट्टी के कुल्हड़ और मटके बनाते थे?
Karnataka, India: Le immagini di oggi sono delle persone che lavorano nei pressi delle rovine di Hampi. Se vi fermate per pensare per un attimo, piccole cose raccontano i cambiamenti portati dal tempo. Come i vasi d'acqua di plastica sulle teste delle due donne. Anche durante il viaggio nel treno, non davano più il tè nei bicchieri di terra, ma li davano nei bicchieri di plastica. Allora cosa è successo alle persone che fabbricavano i vasi e i bicchieri di terra?
***