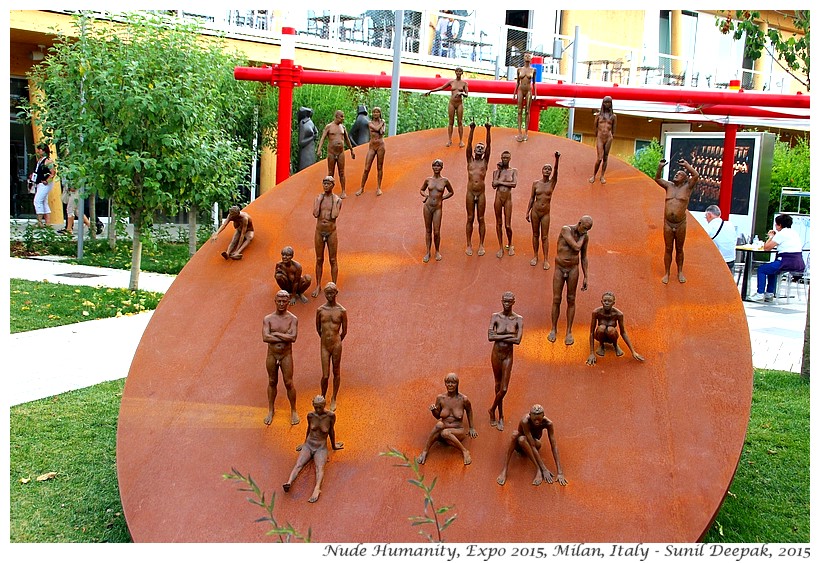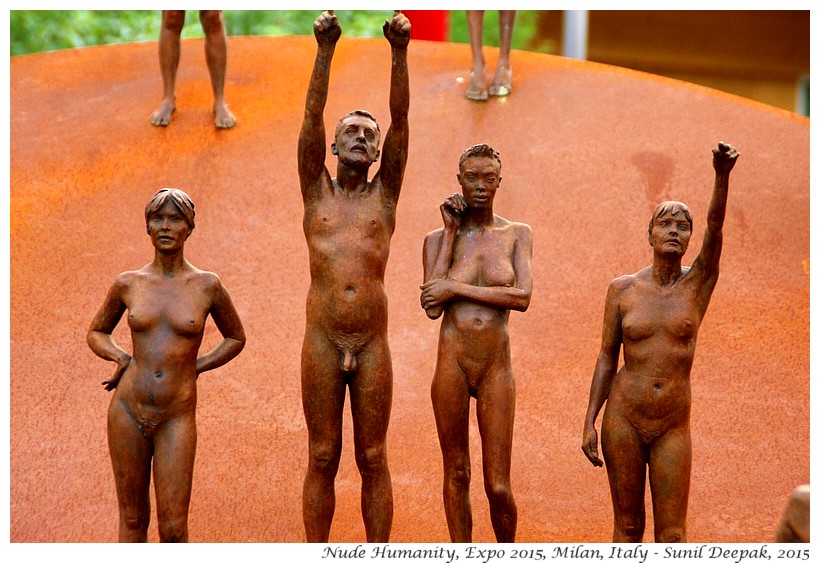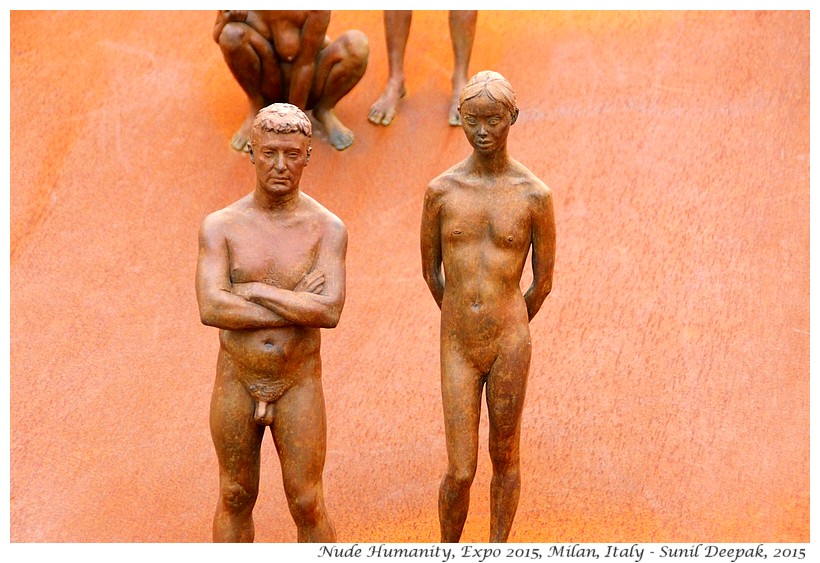 Milan, Italy: In World Expo 2015, many countries have presented art works. Today's images have an art opera from Italy that shows groups of clothesless people from different countries standing on an inclined round disk. I liked it. To me, it seems to express the unity in diversity of the humanity. The nudes are not titillating, they have the ordinariness of daily lives. They seem to underline the fragility of human life and ask for the protection of human rights, earth, nature and environment. Though I tried, I could not find out the name of the artist of this opera.
मिलान, इटलीः विश्व एक्स्पो 2015 की प्रदर्शनी में बहुत से देशों ने कलाकृतियाँ प्रस्तुत की हैं. आज की तस्वीरों में इटली वाले हिस्से से एक कलाकृति है जिसमें एक गोल सतह पर दुनियाँ के विभिन्न देशों के आम लोगों को निर्वस्त्र दिखाया गया है. मुझे यह कलाकृति बहुत अच्छी लगी, इसमें मुझे मानवता की विभिन्नता में एकता दिखी. इसकी मानव आकृतियों की निर्वस्त्रता में कामुकता नहीं है. उसमें सामान्य जीवन की साधारणता है, मानव जीवन की क्षण भँगुरता है और मानव अधिकारों, पृथ्वी, प्रकृति तथा पर्यावरण की रक्षा की कामना है. कोशिश की लेकिन इसके कलाकार का नाम नहीं खोज पाया.
Milano, Italia: Al Expo 2015, diversi paesi hanno presentato le opere d'arte. Le immagini di oggi hanno un'opera italiana con un gruppo di figure senza vestiti che stanno su un disco rotondo inclinato. Mi è piaciuta molto, sembra esprimere l'unità nella diversità dell'umanità. I nudi non sono pruriginosi, esprimono l'ordinarietà della vita quotidiana. Sembrano sottolineare la fragilità umana e sollecitare la protezione dei diritti umani, della terra, della natura e dell'ambiente. Ho provato ma non sono riuscito a scoprire il nome del suo artista.
***