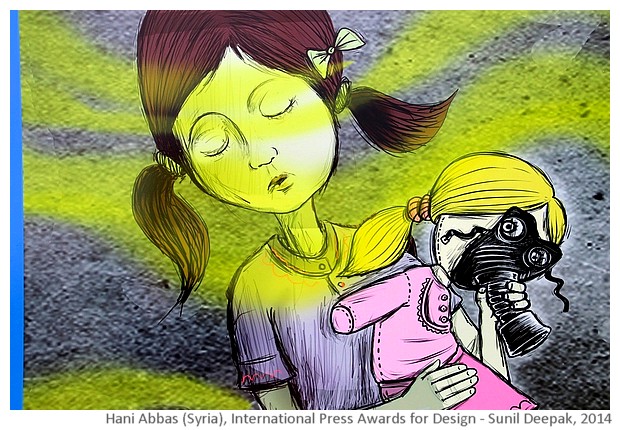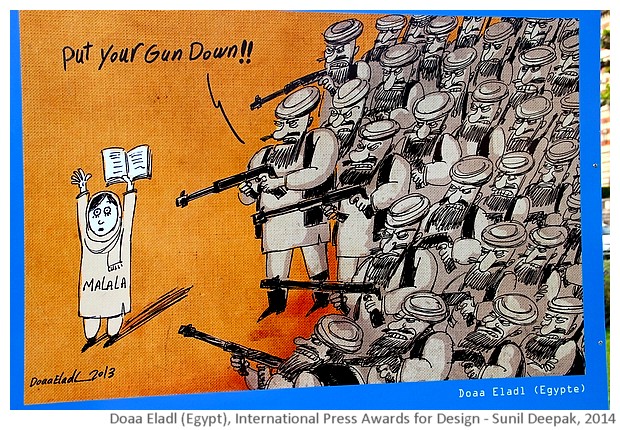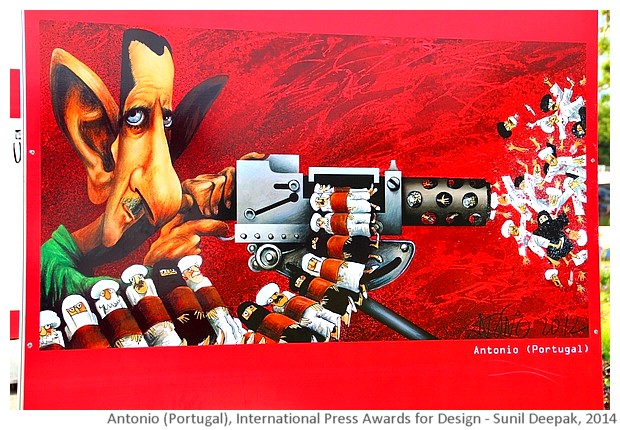 Geneva, Switzerland: Through cartoons, artists can express with a smile the bitter truths of life. Earlier this week in Geneva, I saw an exhibition of cartoons from the International Press Awards for Design competition - this year, the award has been won by Doaa Eladl from Egypt and Hani Abbas from Syria. Today's images have 3 cartoons on the theme of war from this exhibition.
जेनेवा, स्विटज़रलैंडः कार्टून के माध्यम से कलाकार, जीवन के कड़वे सच को मुस्करा कर दिखाते हैं. कुछ दिन पहले जेनेवा में अंतरराष्ट्रीय पत्रकार संघ के कार्टून प्रतियोगिता में भाग लेने वाले कलाकारों की प्रदर्शनी देखी - इस वर्ष यह पुरस्कार मिस्र की दोआ एलादल व सीरिया के हनी अब्बास को मिला है. उसी प्रदर्शनी से तीन कार्टून प्रस्तुत हैं जिनका विषय है युद्ध.
Ginevra, Svizzera: Tramite l'arte, gli artisti possono esprimere con un sorriso le amare verità della vita. Qualche giorno fa, a Ginevra, ho visitato la mostra dei disegni dal Premio Internazionale della Stampa - quest anno, sono stati premiati i disegni di Doaa Eladl (Egitto) e Hani Abbas (Siria). Le immagini di oggi presentano 3 disegni sulla guerra da questa mostra.
***