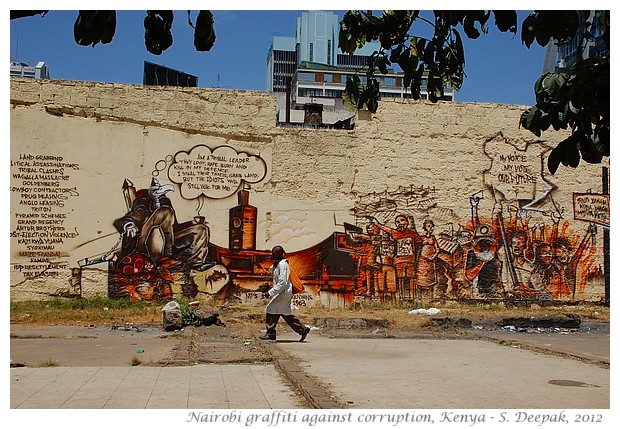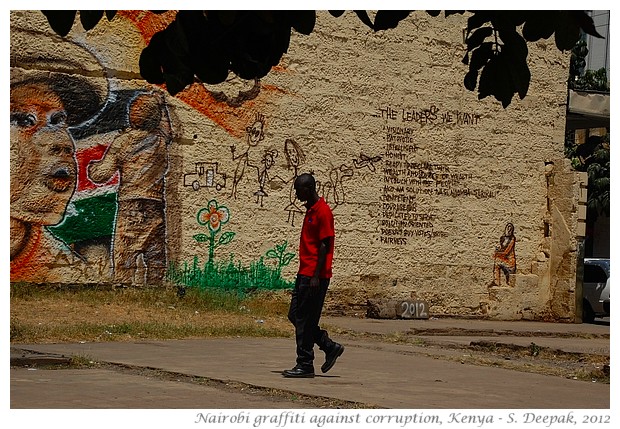 Nairobi, Kenya: Graffiti art or the art on the city street walls is considered as a crime in many places because through it, rebel artists present their views to the public. Today's images have graffiti art from Nairobi raising voice against political corruption in the country.
नैरोबी, कीनियाः ग्राफिटी यानि दीवारों पर कला बनाना अधिकतर जगहों पर अपराध माना जाता है क्योंकि इसके माध्यम से क्राँतीकारी कलाकार अपनी बात को जनता के समक्ष रखते हैं. आज की तस्वीरों में नैरोबी से यह भित्तीकला जिसमें देश में फ़ैले राजनीतिक भ्रष्टाचार के विरुद्ध आवाज़ उठायी गयी है.
Nairobi, Kenya: L'arte graffiti è considerato un crimine in molti paesi perché tramite questa arte, gli artisti ribelli presentano le loro opinioni al pubblico. Le immagini di oggi sono dell'arte graffiti da Nairobi, che denunciano la corruzione politica nel paese.
***