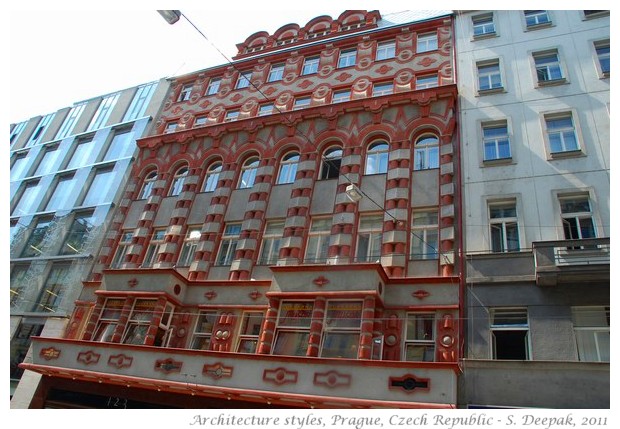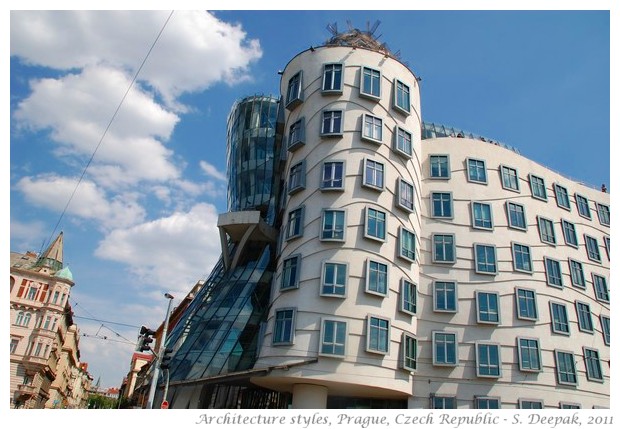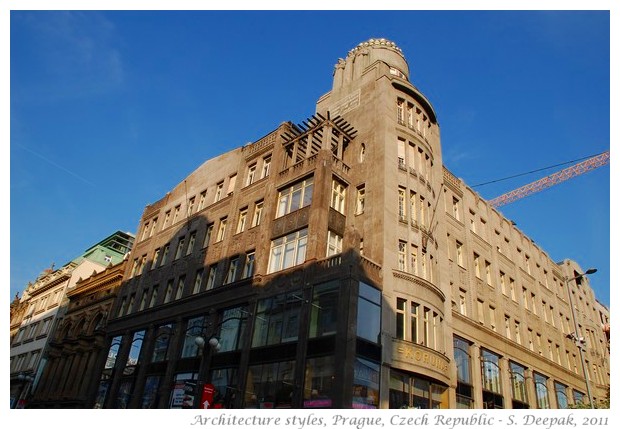 Prague, Czech Republic: The different architectural styles visible in the buildings in Prague seem so rich compared to other cities. Influences of the cubism and surrealism styles of paintings proposed by Picasso and Salvador Dalì can be seen (images 1 and 2). Another style is the soviet socialist style as in image 3.
प्राहा, चेक गणतंत्रः जितने तरह के वास्तुशिल्प शैलियों के उदाहरण प्राहा में दिखे, उतने कहीं अन्य नहीं देखे थे. बीसवीं शताब्दी में फ्राँस और स्पेन में पिकासो तथा साल्वादोर दली जैसे चित्रकारों ने क्यूबिज़्म तथा सर्रियालिस्म जैसे चित्रकला शैलियों को बनाया जिनका प्रभाव प्राहा के वास्तुशिल्प पर देखा जा सकता है (क्रमशः पहली और दूसरी तस्वीर में). द्वितीय विश्व युद्ध के बाद, जब प्राहा सोवियत साम्राज्य का हिस्सा बना तो उसका प्रभाव समाजवादी शिल्प में देखा जा सकता है (तीसरी तस्वीर में).
Praga, Repubblica Ceca: Gli stili architettonici che si possono vedere a Praga sembrano molto ampi in confronto alle altre città. Le influenze degli stili di pittura cubista e surrealista sono nelle immagini 1 e 2, mentre la terza immagine presenta lo stile socialista sovietico.
***