बैकाक, थाईलैंडः शहर के बीचों बीच, महानक किले के साथ में, दीवार के पीछे एक गाँव छुपा है. छोटे से दरवाज़े से अन्दर घुसिये तो लगता है कि समय की उड़ान से पुराने समय में पहुँच गये हों. इस गाँव में एक ओर पक्षी बेचने वालों का हिस्सा है, जहाँ मधुर कँठ वाले पक्षी भी हैं और लड़ाई के लिए तैयार किये जाने वाले वियतनामी और बर्मी मूल के मुर्गे भी. शहर से घिरा, नदी और किले के दीवार के बीच में बसा यह प्राचीन गाँव कुछ समय का महमान है, कहते हैं यहाँ नये भवन बनेगे. इस तरह कि जगह देखने को मिलती हैं तो गुलाम अली का गीत याद आ जाता है, "इस दश्त में इक शहर था, वो क्या हुआ, आवारागी".
Bangkok, Thailand: Right in the middle of the city, between the walls of the Mahanak fort and the river canal, there is the ancient Mahanak village. As you enter through its small unassuming door, you are transported back into time. One of this village belongs to bird sellers. Among them there are singing birds as well as cocks of Burmese and Vietnamese origin, reared for the cock fights. Like every where else, it seems they would like to make new buildings on this place.
Bangkok, Tailandia: Nel bel mezzo della città, stretto tra le mura della vecchia fortezza di Mahanak e gli argini del fiume, c'è questo vecchio villaggio. Quando entri dentro dalla piccola porta, ti sembra di essere tornato in dietro nel tempo. In una parte del villaggio vivono gli allevatori di uccelli. Tra questi vi sono ucellini conosciuti per il loro canto e vi sono anche i galli di origine vietnamita e birmana, allevati per le lotte. Si dice che presto sorgeranno nuovi edifici in questi spazio.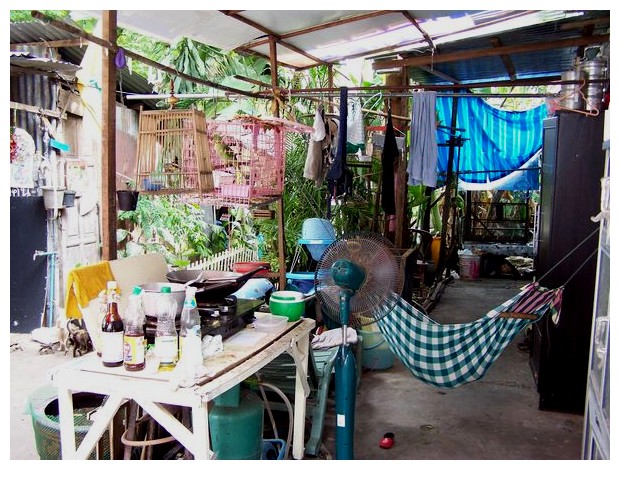 __________